Athena Swan
News and events
Athena SWAN Surveys
Thank you to all staff and PhD students who completed the Athena SWAN surveys this year. The data have been analysed by Sue Whittle and members of the relevant staff groups, to produce an overall report for all staff in the Faculty, together with individual reports for:
Each report comes with recommendations for action that will be considered initially at the Faculty Equality and Inclusion Committee before being rolled out to other relevant committees for local actions to be taken.
2nd Athena SWAN Open Meeting March 2019: Everyday sexism and core hours
On Thursday 28th March a group of 40-50 people gathered together for our second open Athena SWAN meetings focused on two key gender equality subjects;
Everyday sexism: Does the language we use matter or are people just over-sensitive?
Core hours: Can we do science in core hours? Does having meetings/seminars outside core hours exclude people?
These are two issues chosen by our Athena SWAN Postdoc reps, which were raised by our surveys across many different groups across the faculty.
We engaged in lively open debate on gender equality issues affecting researchers in FBS.
A downloadable PDF version of the summary of discussion points is available here along with the actions to tackle these two issues.
Updates on these actions will be made through the Dean's communication and Athena SWAN coffee mornings.
First Athena SWAN Away Day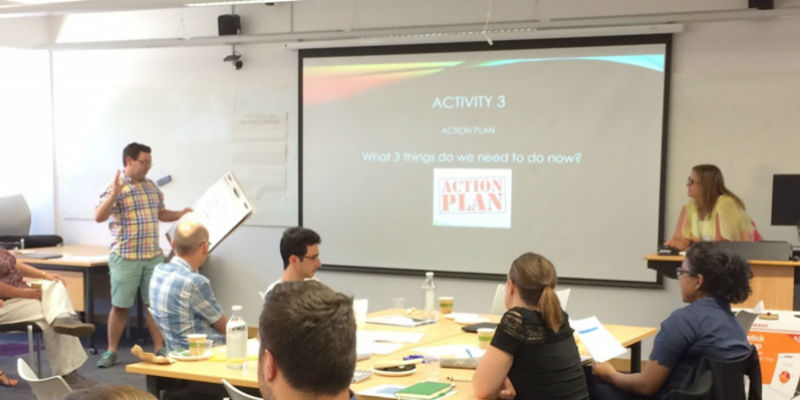 On Friday 29th June we held our first Athena SWAN Away Day, inviting people from across the faculty to join the Athena SWAN Team. We focused on four themes; students, culture, career development and staff recruitment.
Congratulations to the Athena SWAN Team who won the Wellbeing Award at the 2018 Partnership Award Ceremony
The nomination was "for its work and dedication towards getting the instalment, and vitally working towards a mutually agreeable and workable management system, of our faculty wellbeing room in the Irene Manton building. This has at times been a contentious issue... as this room needs to be functional to a varied number of user groups... It is one of the first of its kind across the campus, and being a pioneer is never easy!"
Dr. Bernadine Idowu-Onibokun talks to "coffee and careers"
An event organised by the FBS Equality and Inclusion Champion, Dr. Yoselin Benitez-Alfonso and co-sponsored by E&I and Athena SWAN in FBS. Bernadine is a visiting lecturer and the diversity and inclusion champion at the Dental Institute, Kings College London. She shared the story of her career so far as an award-winning black female scientist and gave an inspiring presentation. Thanks so much for coming Bernadine and inspiring us!