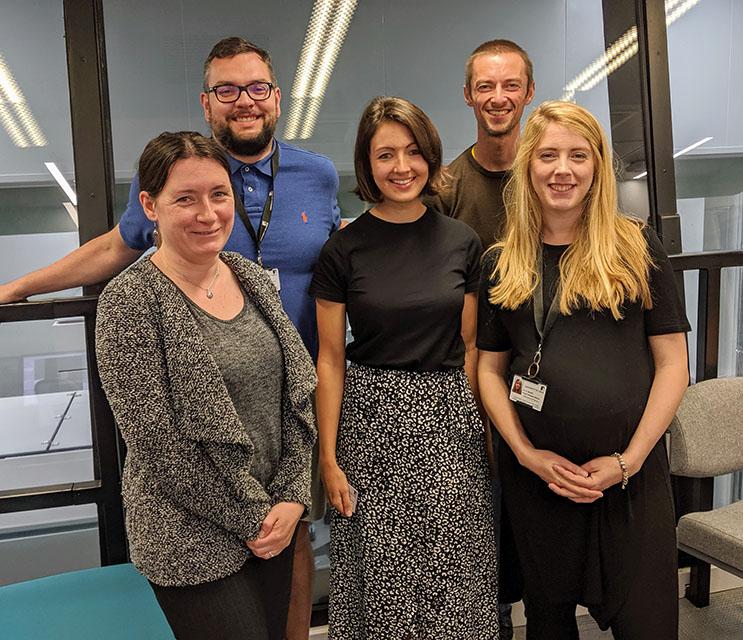 We can provide expert assistance to users new to electron microscopy, from sample preparation, data acquisition and image processing. For more information about our facility and the services we offer, please contact cryoEM@leeds.ac.uk.
Dr Rebecca Thompson
Electron Microscopy Facility Manager and Senior Cryo-EM Support
Becky has worked in electron microscopy since 2011, with her PhD work using cryo-electron microscopy to investigate protein-membrane interactions. Since joining the facility in January 2016 her work has focused on supporting colleagues to make the best use of the cryoEM resources avalible at the University. Her personal research interests include protein-membrane interactions and correlating different imaging technologies.
Dr Emma Hesketh
Senior Cryo EM Scientist / Research Fellow
Emma joined the University of Leeds in 2014 as a Post-doctoral research scientist in Professor Neil Ranson's group, using cryoEM to study viruses. In 2017 she joined the Electron Microscopy facility as a Cryo-EM Support Scientist on a part-time basis. She obtained my PhD in Biology at the University of York in 2015 following my undergraduate degree in Biochemistry (Ind) at the University of Leeds.
Emma is on maternity leave until July 2020.
Mr Martin Fuller
Electron Microscopy Technician
Dr Dan Maskell
Cryo-electron Microscopy Scientist
Cryo-electron Microscopy Scientist
Charlie has worked in Leeds since 2011, completing postdoctoral work under the supervision of Prof. Radford, Prof. Ashcroft and Prof. Trinick. She has experience in using electron microscopy to tackle biological problems in a range of systems from amyloid to muscle. She is currently working in the facility covering Emma Hesketh's maternity leave. Her personal research interests centre around structural mechanisms of inherited heart disease and integrating structural biology methods to tackle complex biological problems.