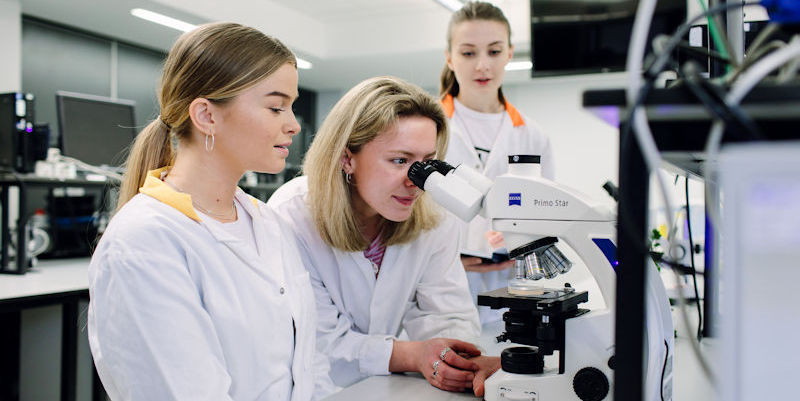 Our teaching has been rated Gold in the 2017 Teaching Excellence Framework, the highest award possible.
This demonstrates our commitment to providing our students with the highest quality teaching and positive outcomes.
You'll learn through a range of teaching styles, including lectures, tutorials, workshops and seminars, and private study time.
This will give you lots of variety in your timetable plus time to pursue other interests and activities such as clubs and societies.
Research-based learning
As a member of the prestigious Russell Group of research-intensive universities, you'll get to share in the excitement of our cutting-edge research.
Throughout your degree you'll be taught by internationally renowned academics working at the forefront of their fields. This gives you the chance to find out about the latest research first-hand.
These academics will share their passion for the subject with you. They will inspire you through their teaching and introduce you to the latest findings and discoveries in the biological sciences.
Industry-relevant courses
Your learning will be directly influenced by industry, ensuring you develop all the relevant skills and training required by graduate bioscience employers.
Our Industrial Advisory Board gives employers the chance to input directly into course and module content, and reinforces the strong relationships we have.
All our MBiol and BSc Industrial Placement Year courses are accredited by the Royal Society of Biology.
Laboratory classes
The practical content of our courses is high, which will help you develop the skills necessary to compete for science-based careers. You will work in small groups supervised by lecturers and demonstrators.
Tutorials
Small-group teaching encourages active participation and understanding. It is also a good place to practise presentation skills.
Lectures
We have modern lecture theatres, equipped with the latest audio visual and computer-based teaching aids.
Lectures and other teaching sessions may be video-recorded to provide material for private study and revision.
Research projects
All our degrees offer you the opportunity to undertake an exciting final-year research project.
You'll have the chance to learn from and work with our world-class scientists in an academic or research environment.
Our projects provide you with the opportunity to explore your subject in more detail and develop essential skills for the world of work: problem-solving, teamwork, management, leadership, decision-making, research and communication skills.
Field courses
Field courses provide hands-on experience of whole organisms and an opportunity to study animals and plants in their natural environment.
Digital learning
We have invested over £2m in a new state-of-the-art lecture capture and multimedia management system.
You'll be able to access video and audio recordings of many of your lectures and other activities through the University's Virtual Learning Environment (VLE).
Science and society
As part of your final-year research project, you can take part in the Science and Society initiative.
Students are invited to take research conundrums and ethical dilemmas into schools for pupils to grapple with, engaging young people with the Faculty's research while also developing key skills that employers value.
Academic facilities
You will have access to excellent facilities both within the Faculty and across the University.
You'll benefit from a contemporary, inspiring and well-equipped learning environment.
Other facilities include fermentation units, research-quality microscopes and molecular biology suites.
If you're on one of our School of Biology courses, you may also have the chance to access the University farm, as well as regular fieldwork opportunities.
Our libraries offer a variety of study environments. The Brotherton, Edward Boyle, Laidlaw and Health Sciences libraries – based in four buildings on campus – each house a different subject-based collection.
Almost 4,000 study spaces are available, from silent individual study to vibrant group work areas. All our libraries have extensive computer facilities and are wireless-enabled throughout for mobile devices.
Supporting our students
We have a team dedicated to helping you make the transition to university as smooth as possible.
Your personal tutor and the Student Education Office are there to ensure you get the most out of your time at Leeds and that you grow in confidence to become an independent learner.
Our approach to student education has received resounding endorsement from our students, with a number of our degree courses achieving high scores in each year's National Student Survey (NSS).