Careers and employability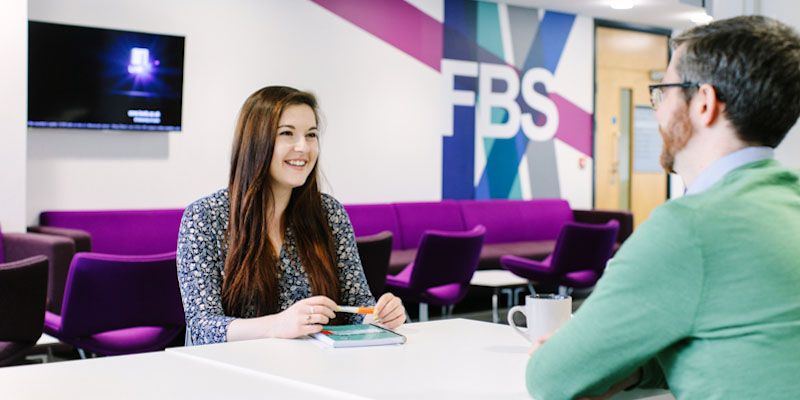 In an increasingly competitive job market, our degrees can give you the edge and help you stand out by developing the knowledge and skills you need to succeed.
From day one you'll be supported and encouraged to prepare for your career by our dedicated employability team who work closely with the University's Careers Centre.
There are also plenty of opportunities outside your studies to increase your chances of securing that all-important graduate job.
Excellent career prospects
Our graduates have an excellent reputation amongst employers. The University is one of the UK's top 10 universities targeted by employers according to the High Fliers report 2018.
We also featured in the UK's top 10 for graduate employability in the QS Graduate Employability Rankings 2019.
Career development and preparation
We take personal development and career opportunities very seriously and the Faculty has a dedicated Employability Team who work closely with the Careers Centre.
We offer a host of additional opportunities beyond core course content, including volunteering and placements. These include our:
Biological sciences, sport sciences and STEM careers fairs; giving you the chance to meet employers, speak to alumni, attend workshops and get lots of information
Annual Faculty Graduate Panel; where graduates are invited back to talk about their work and network with our students
Our events give you the opportunity to be seen by graduate employers and to discuss your potential career options. We attract bioscience employers such as:
AstraZeneca
Labcorp Drug Development
GSK
Nuffield Health
RSPB
Yorkshire Wildlife Trust
UK International Soccer
CP+R (Clinical Prevention and Rehabilitation)
Opta Sports
We also offer a career-specific module to give you dedicated time to focus on employability and skills development.
Close links with industry
Your learning will be directly influenced by industry, ensuring you develop all the relevant skills and training required by graduate bioscience employers.
Our Industrial Advisory Board gives employers the chance to input directly into course and module content, and reinforces the strong relationships we have.
Industrial placements and study abroad
All our degree courses offer you the opportunity to carry out a year in industry or study abroad year.
These options are valued by employers and are a fantastic opportunity to enhance your university experience and your CV.
Summer vacation studentships
Each year we offer second and third year students the opportunity to work in a research laboratory during the summer vacation.
This experience is ideal if you're thinking of continuing with a career in research after graduating, or if you'd like to find out what research is all about.
Enterprising future
We're proud to have won a national Guardian University Award for our enterprising approach to supporting students.
It's one of many awards recognising the University's entrepreneurial spirit, including being named Entrepreneurial University of the Year in the Times Higher Education Awards in 2015.
If you're interested in developing your business ideas, we are keen to support you in that. You'll be able to choose from a number of credited enterprise modules which you can take as electives under the Enterprise and Innovation discovery theme.
These innovative modules aim to enhance your transferrable skills, such as commercial awareness, creative problem-solving and team working, which will help you stand out to potential employers in the future.
In your second year, you may choose to apply for a place on our Year in Enterprise course.
You also have the chance to develop your own business through the University's Spark initiative.
Mentoring scheme
If you want some extra guidance towards your future career, you can apply to our mentoring scheme.
We have over 70 mentors, which include Biological Science graduates that work in a wide range of roles.
You'll meet your mentor face to face and/or online. They'll give you an insight into their career area, help you identify goals and career ideas and give you tips on applications and interviews.
Read about Helen's experience being mentored by Victoria Higgins, Director of External Engagement at GSK.
LeedsforLife
As a student at Leeds you'll join the Leeds Network, a vast network of alumni working in a diverse range of professions and organisations across the globe.
The Leeds Network offers an online career networking service, featuring hundreds of career profiles and the chance to get in touch directly with Leeds graduates to receive career-related advice.
Resources for internal students only