Yarui Huang
Course: MSc Biodiversity and Conservation
Year of graduation: 2022
Nationality: China
My role in a wide, wild world
My undergraduate major was biological sciences, which is a very broad major. I studied everything, but nothing in detail, so I wanted to further my study into one of the areas of biology. The field course I took as a freshman had a profound impact on me, and it was really cool to work in the field. I also wanted to become an ecologist who worked in the field, protected plants and animals, and even appeared in documentaries. The Biodiversity and Conservation program at the University of Leeds includes a lot of field courses, so I decided to choose that program and come to Leeds.
A hands-on learning experience
It was my first time studying abroad and I wanted my life in the UK to be exciting and different. I don't like to have lectures all the time, and this program has diverse teaching methods, like lecture, lab session, field trip and computer session. With the help of various teaching ways, I can apply my theoretical knowledge into practice. For example, in the GIS and SPSS module, we usually have lectures in the morning, and in the afternoon we have practical session in the computer cluster. Additionally, in the plant identification module, we will go to the field to identify plants. In the insect identification module, we to the field to catch insects and identify and make specimens ourselves.
Sun, sea and studying
This program has oversea field trip in Spain or Africa. I participated in the Mediterranean field course in Spain. The ten days in Spain were hard and also very fun, and it was an unforgettable experience in my life. I wish I could have taken both oversea field trips! Both Spain and Africa!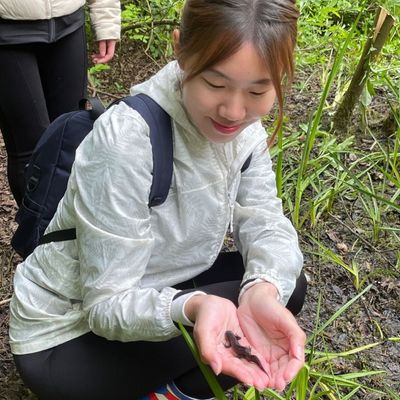 Ground-breaking research
My summer project is the effect of microplastics on the behavior of freshwater shrimp. Plastics are nowadays of wide concern to the society. Studying microplastics can help to understand its potential impact on aquatic organisms as well as suggest some conservation measures. My research is on the activity, predatory and mating. There is still very little research on these aspects. Sometimes it really feels like I'm studying something that no one else is studying, and it's very rewarding!
Life studying abroad
Language was a challenge. There are so many technical terms involved in this major, such as the structure of insects and strange buttons in the software. For me, who is not a native English speaker, it would have taken me double or more time, comparing with local students. Besides, as it was my first time studying abroad, I had not been touched to academic writing before. Therefore, I need to learn how to write a literature review and a scientific paper that would qualify for publication. As for how to overcome it, the answer is to spend more time than others.
The whole education system is very different to my country. In terms of delivery, a module will often have several forms of teaching, for example, a combination of field and lab sessions, or a combination of lectures and computer sessions. In my country, it is mostly the teacher who lectures and the students who listen.
But why the University of Leeds?
The University of Leeds has always been in the top 100 in the world and is improving year on year. A respectable university ranking can make me stand out from the crowd of job seekers. People call Leeds 'Little London'. It's not a big city, but I can get anything I want in Leeds by walking.
The faculty gave me a £5,000 scholarship on entry. This was a great relief and motivation for me.
Standing on my own two feet
When I first arrived, I was worried and anxious that I wouldn't be able to adapt to life abroad. But then I realised that I didn't need to worry at all because I was independent, the professors were very responsible and the people of Leeds were very welcoming.