Lydia Shale
Course: Sports Science and Physiology
Year of graduation: 2024
Nationality: British
Our reputation speaks for itself
When it got to me applying for university, it was during the COVID-19 pandemic which meant there were no open days. I had never been to Leeds before, but I had heard that the Sports Science course was highly recommended by other students. Additionally, Leeds was close enough to home so that I could drive back easily if needed, but far enough away so that I had my own real independence - so it was quite convenient.
Supporting your development
During my second year, I was on a coaching scholarship from Leeds Sport. I coached one of the Women's Football Teams which was really enjoyable and enabled me to explore a new route of football which I'd never properly done before.
This scholarship gave me a bursary that I could use towards any developmental courses/events, which I used to pay for a 'Women in Football' conference at Wembley.
I was supported and encouraged to push myself out of my comfort zone which reflects massively in my transformation as a leader in the past year. Going into my third year, I won't be doing a scholarship again, but I will be continuing my coaching within university and in the community with Hyde Park Women's+ FC.
Seize every opportunity
I have just completed two seasons on the FA National Youth Council where my roles were Innovation lead and Project Support (year 1) and Communications Lead (year 2). During this time, I have had the opportunity to provide meaningful opportunities to youth leaders (aged 16-24) where they can develop themselves and positively impact their football community.
A few personal highlights of my time on the youth council include:
- Working with England Football to launch the 'England Football Youth Leadership and Volunteering Online Community' in February this year. In the space of 5 months, we have surpassed the target of 1000 active users which means that youth leaders and volunteers nationwide are able to connect and have their stories heard. Very often the youth voice gets overlooked, so playing my part in giving the platform it deserves is empowering, and I really hope its popularity continues to increase exponentially in years to come.
To take a look at this community page, please follow https://community.thefa.com/youth-leadership-volunteering/
- Chairing the youth co-creation group for England Football's "Greater Game" project.
The aim of this project was to use the power of football to help improve the health & wellbeing of young people across the nation.
Following the four pillars of Eat Well, Sleep Well, Think Well and Move Well, I had the opportunity to collaborate and present to Nuffield Health and UCL researchers about the needs and wants of young people. The pilot phase is currently being implemented nationwide, and is frequently collaborating with the senior England football teams which is really exciting to see.
To learn more about this project, follow this link: https://www.englandfootball.com/participate/The-Greater-Game
- Being invited onto the judging panel for the National Grassroots Awards, where the successes of grassroots clubs and individuals across England are celebrated and rewarded. I attended this event at Wembley recently, where we were joined by Gareth Southgate, John Barnes, Sue Smith, Rachel Yankey, Sir Geoff Hurst, Martin Keown and other notable guests that have positively impacted their footballing community as a volunteer in the grassroots game. After the awards ceremony, we had the opportunity to watch the Community Shield game, too.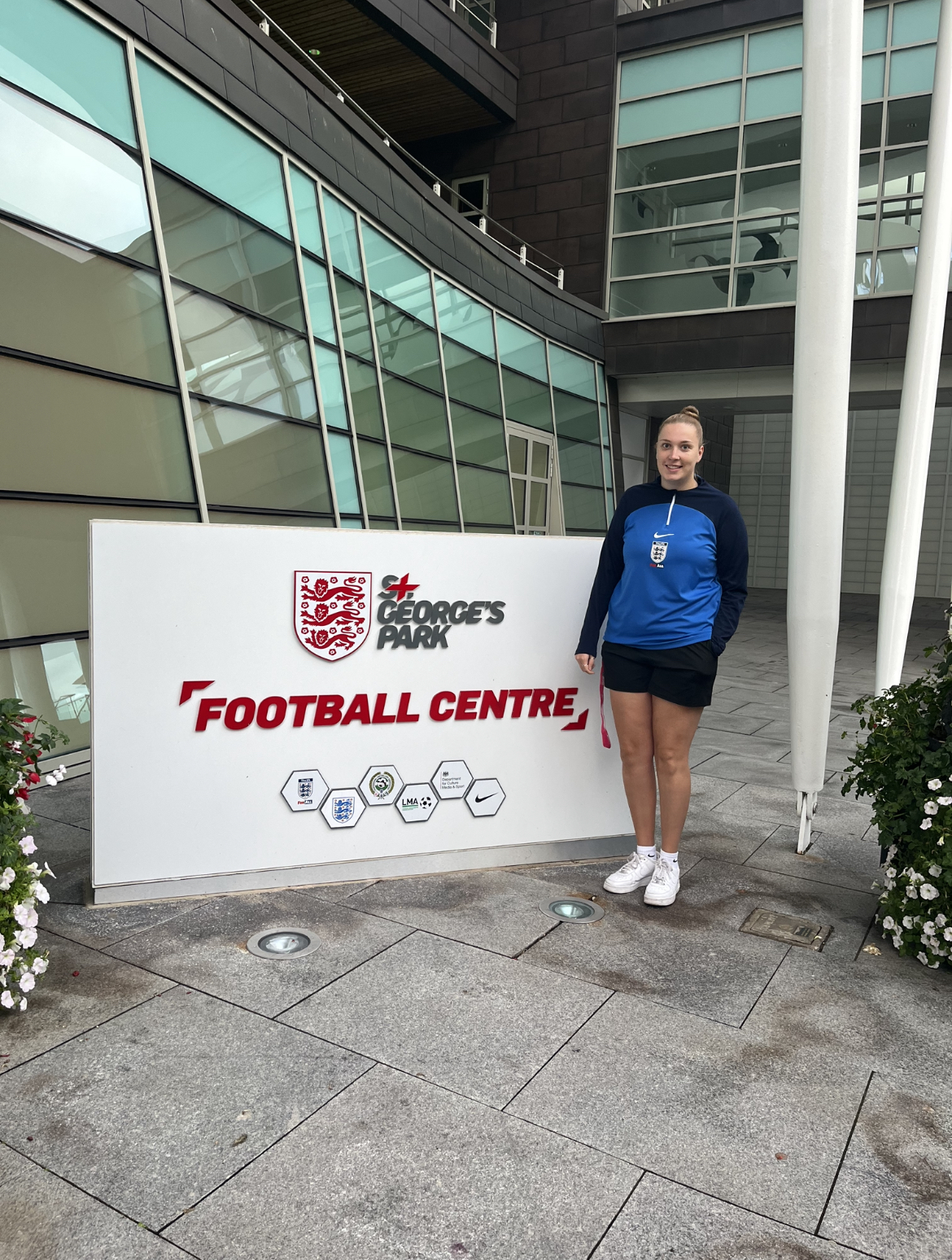 - Delivering workshops for two years running at the annual "FA Leadership Academy (FALA)". FALA is a 12 month learning and development programme for youth leaders in football aged 16-24, which starts with a 4 day residential. During these 4 days, the youth leaders will take part in workshops, as well as team-building and leadership activities to help support them reach their full potential as they implement a football project in their local communities over the coming year.
A personal journey
Public speaking was one of my weaknesses as I started my leadership journey, however I've been able to develop this skill to the point where I frequently to present to rooms full of people in a professional capacity. The FA National Youth Council has undoubtedly impacted my life significantly, and I really advise anyone who is interested in football leadership to get involved with them where possible (@thefa_nyc on socials).
Due to the developmental impact they have had on me, I have recently applied and been accepted onto the FA and BUCS Women's Leadership Programme, which I will be taking part in during my final year of university. I'm really excited to get started so that I can work with another group of inspirational leaders to help develop myself and others around me.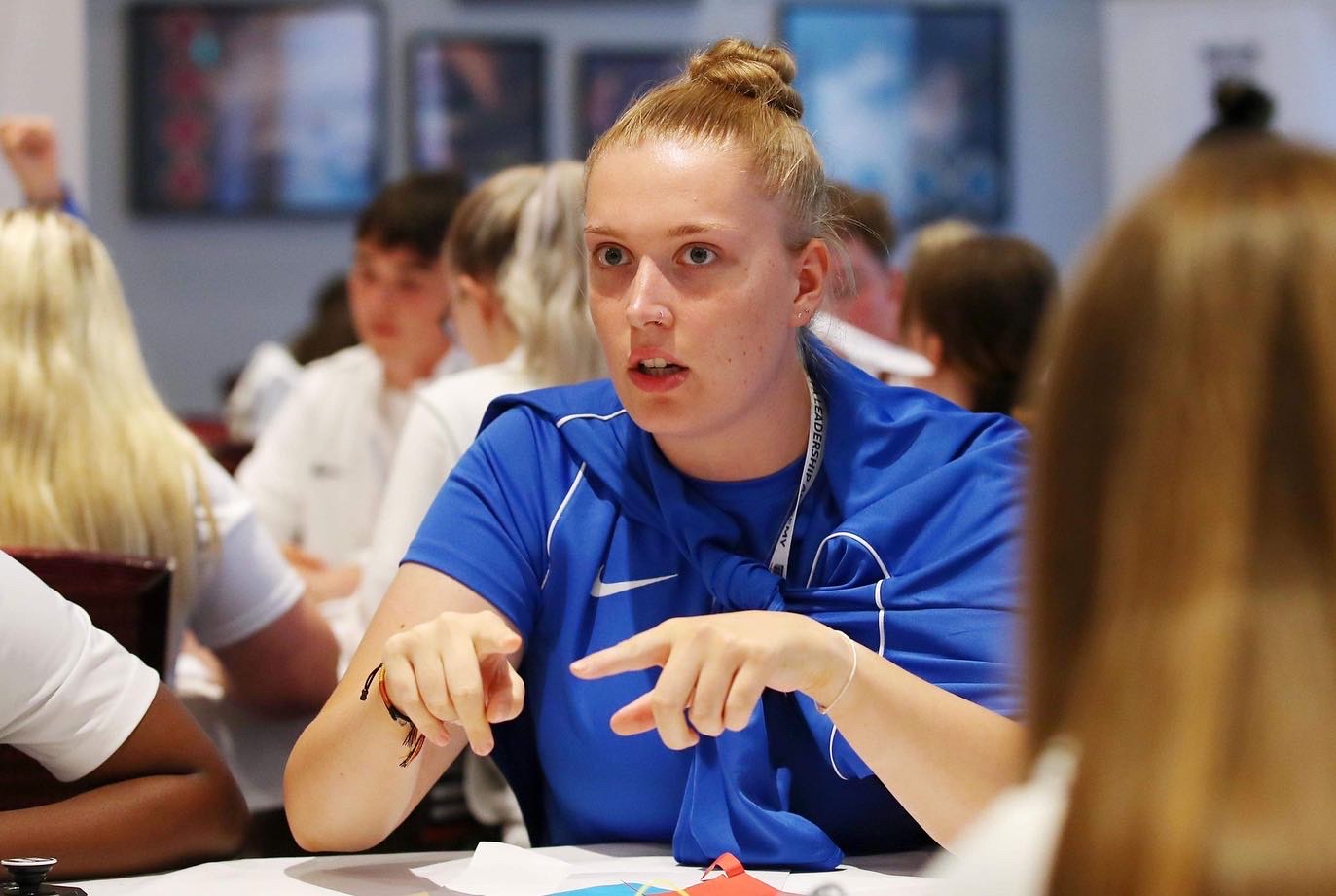 Making an impact on a global scale
After university, I would love to work in the development of women and girls football on a national and international scale. After the success of the Lionesses at the Euros and World Cup, female football has improve and expanded exponentially, and I believe it will continue to do so for years to come which is why I want to play my part in the journey. To name a few examples, my course has helped me: explore NGBs and their effect on the growth of sport, the psychology behind the athlete which I use in my coaching, and the impact of female anatomy and physiology and its effects on performance, psychology, and general health of women.