Leeds pig nutrition expert becomes BSAS president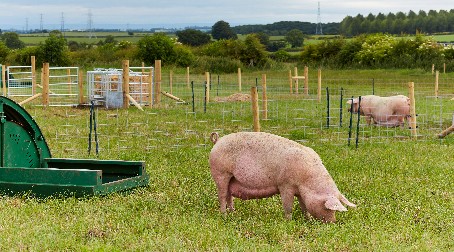 Congratulations to Professor Helen Miller on being elected as the new President of the British Society of Animal Science.
One of the UK's leading experts in pig and poultry nutrition has been elected as the new President of the British Society of Animal Science (BSAS). Helen Miller, Professor of Animal Bioscience in the School of Biology at the University of Leeds, succeeds SRUC's Richard Dewhurst, who has become a trustee of the society. Professor Miller, who is also Managing Director of the University of Leeds farms, is known for her work on developing feeding systems which enhance animal health, performance and meat quality. Having studied and worked in Bolivia, Australia and Canada, she joined University of Leeds in 1992, where her research has looked at issues ranging from comparing the performance of pigs in outdoor and indoor systems, to the effects of feed additives. Her work investigating piglet success after weaning has also lead her to help develop a group feeding recording system, which aims to uncover why some pigs eat more and do better after weaning.
Speaking at the BSAS Annual Conference in Dublin (10 April), Professor Miller said she was honoured to lead the society during its 75th anniversary year.
"My theme for the next year is going to be 'fit for the future'," she told delegates. "As we go into the 75th anniversary as a society, it's a great time for us to consider where we are, where we're going, and what the strategy for the next 25 years needs to be.
"Over the next 12 months, I want to work with the BSAS team to build momentum to drive the society and ensure we are prepared for the challenges facing the livestock industry both now and in future."
Professor Miller discussing the University of Leeds' pig farm investment
Professor Miller will be assisted during her one-year term by Eileen Wall, who has become the society's senior vice president. Professor Wall is a researcher in livestock genetics within SRUC's animal and veterinary sciences group. Michael Lee, professor of sustainable livestock systems at the University of Bristol, was voted in as the society's new vice president.
"I know I will have great support from my new vice president and senior vice president and we are all agreed that we will try to build a continuum to drive the direction of the society," Professor Miller added.
"Next year's 75th anniversary conference in Edinburgh will give us the chance spend some time reflecting on how we get here, where we have got to, and look at the future of where science is going."
Bruce Beveridge, BSAS chief executive, said: "It's fantastic to have such an engaged, enthusiastic and energetic leadership team at what is a pivotal point for BSAS as we enter our 75th year.
"The combination of experience and perspective that Helen, Eileen, Michael — along with the society's trustees — bring will prove invaluable in shaping the society's future, particularly at a time where the livestock industry is facing some significant changes."
Further information
The 2018 BSAS Annual Conference was held at Croke Park in Dublin from 9-11 April. The British Society of Animal Science is an educational charity working to improve the understanding of animal science and the ways it can help ensure food is produced ethically and economically.
By sharing the latest in animal research, BSAS aims to enhance the welfare and productivity of farm animals to help produce quality, safe and environmentally-sustainable food.
For more information on the society, visit www.bsas.org.uk.
For more information on the 2018 Annual conference, visit www.bsas.org.uk/bsas2018