Leeds top five for student experience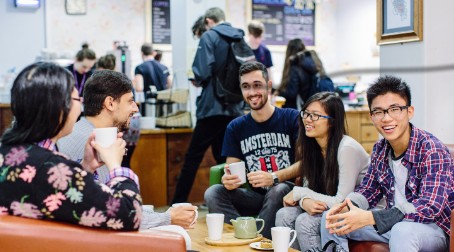 Leeds has been voted in the top five universities in the UK in the new Times Higher Education's Student Experience Survey.
The University's facilities, activities and societies, and student welfare and support all feature particularly strongly.
In a new measure for 2017 asking how likely students they were to recommend their university to friends, Leeds was in the top ten, in ninth position.
"The exceptional student experience at Leeds is the result of the University's close partnership with Leeds University Union, which ensures that students are involved at every level of university life."
"Being voted into the top five feels very encouraging, and I hope reflects the success of Leeds' unique offer to students, which combines dynamic, research-based education with a strong emphasis on extra-curricular activities," continued Professor Ward, Deputy Vice-Chancellor: Student Education at the University of Leeds.
"It is a true testament to our fantastic community of staff and students, who come to Leeds from all over the world."
Exceptional student experience
Fourth place builds on The Times and The Sunday Times University of the Year 2017 award, in which the student experience at Leeds was singled out for praise.
It also reflects National Student Survey results, where a record 90% of final year students at Leeds said they were either satisfied or very satisfied with the overall quality of their course in 2016.
The University works in close partnership with Leeds University Union to ensure students are involved in and shape decision-making at all levels, a defining feature of education at Leeds.
Jack Palmer, Union Affairs Officer for Leeds University Union said: "I want to wish the University a huge congratulations on ranking 4th overall. I am particularly pleased to see that students valued provision for welfare and co-curricular experience so highly."
"As a Union we work tirelessly to make sure students love their time at Leeds."
Jack continued: "When higher numbers of students and a higher need for support with mental health are putting pressure on our services, I'm really happy to see students are still satisfied with the quality of the experience we provide."
This is the seventh year running that students have ranked Leeds among the top ten universities in the UK.
Every year, the Times Higher Education survey asks students across the UK to give their views about their university on a range of issues, from the quality of teaching and how well-structured the courses are, through to accommodation and support and welfare.
Outstanding campus facilities
Students voted Leeds third for its facilities, including quality, convenience, library/opening hours, shop and bar amenities, and sports facilities.
With first-rate accommodation, libraries and teaching facilities, the University is investing a further £520m to developing campus to support world-leading research and teaching.
This spring sees the completion of some of the most recent investments, including a £4.5m cycling track and the £24.7m refurbishment of the Edward Boyle Library.
Already one of the best student unions in the UK, Leeds University Union was the first union to be awarded 'excellent' status in NUS quality accreditation and will provide even better facilities and opportunities for students following the completion of a £17 million upgrade in 2017.
The Union continues to receive one of the highest levels of satisfaction amongst students.
Extra-curricular opportunities
This category asked about social life, community atmosphere, environment on campus and extracurricular activities.
Leeds University Union offers more than 300 activities to choose from and the University has one of the largest volunteering programmes in the UK.
The University's LeedsforLife programme focuses on co-curricular activities, including work placements and volunteering, as well as study and placements abroad. More than one in five students participate – one of the largest student mobility programmes in the UK.
With more than 33,000 students from over 151 countries, there is a real vibrancy about campus and the Global Community helps student connect and broaden horizons.
Supporting students
Providing a wide range of sources to support students, Leeds is investing to provide exceptional academic, co-curricular and pastoral support for students through every stage of their journey at the University, from registration through to graduation.
Working in partnership with staff across the University and with Leeds University Union, the Student Education Service underpins every element of the student experience, from maintaining and improving academic standards to providing co-curricular opportunities and student support.
Further information
This is the 10th annual Times Higher Education's Student Experience Survey. The results are based on the responses of more than 15,000 undergraduates rating their university. For more information about the 2017 Student Experience Survey, visit the Times Higher website.
Contact University of Leeds press office at pressoffice@leeds.ac.uk