Education holds the key to using animals in biomedical research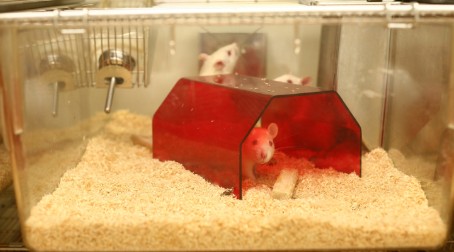 Dr David Lewis is a key figure in developing advice for all UK universities on how and what to teach students who use animals in research.
Scientists and educators involved in animal research in emerging countries are sharing good practice ideas, plus debating welfare and ethics, as part of pioneering work led by the University.
Dr David Lewis, Senior Lecturer in Pharmacology and Bioethics has delivered South Africa's first accredited training to vets and para-veterinarians. In turn it will be used by them to teach their colleagues and students.
This was accredited by South Africa's Veterinary Council and delivered in partnership with its Association of Laboratory Animal Sciences.Dr Lewis, who is a Higher Education Academy National Teaching Fellow, will present a similar round of professional development in India and in China later in the year. His work is a prime example of Leeds' leadership in creating and sharing good practice in education, training and professional development in research animal sciences, both in the UK and internationally.
The University of Leeds is a signatory to the UK-wide Concordat on Openness on Animal Research, which requires members to be transparent about how animals are used in studies, with Dr Lewis's work also encouraging and supporting other organisations to follow good practice.
Teaching in UK universities
In addition to his work abroad, Dr Lewis has been a key figure in developing advice for all UK universities on how and what to teach students who use animals, or data created by using animals, in research.
This advice has been developed for the British Pharmacological Society and is supported by 29 UK and international bodies and businesses including;
GSK
AstraZeneca
Royal Society of Biology
National Council for Replacement, Refinement and Reduction of Animals in Research
Understanding Animal Research
Association of the British Pharmaceutical Industry
British Toxicological Society
The Physiological Society
The advice is now being promoted to universities across the UK in the form of a new curriculum which includes information on key topics and source material.
Dr Lewis and his colleagues announced the new advice through a blog post on the Times Higher Education website. In it he said animal research was essential to support the development of innovative medicines which could ultimately improve human and animal health.He said: "For these studies to be scientifically valid, research animals must be used appropriately by researchers. Similarly, researchers must be able to meaningfully interpret and critique published data, and be able to tell the difference between well-designed and flawed experiments."
The advice is the culmination of a year-long collaboration between academics, industry scientists and animal welfare experts. It has been designed to:
Help students understand when research requires the use of animals, and when it does not.
Provide the skills to interpret and critique data obtained from research involving animals.
Share good practice on how to design animal experiments and to integrate welfare into that process.
Foster openness about the use of research animals.
The curriculum focuses on knowledge and understanding, experimental design and how to interpret data. It highlights issues around ethics, animal welfare, regulation and reducing numbers of animals used, and invites students to consider wider social attitudes. It does not require all students to have hands-on contact with animals, as observation or video simulations may be enough to convey the intended learning outcomes, and for those who do want practical exposure to animals used in research, the curriculum advises educators on a range of other appropriate techniques to help inform students.
Dr Lewis added: "In addition to supporting the knowledge and skills of the next generation, in the long term we hope that this new curriculum will help maintain UK strengths in the life sciences and drive innovation."
Notes to editors
Media contact: Peter Le Riche, University of Leeds press office, 0113 343 2049 | p.leriche@leeds.ac.uk
In addition to his responsibilities at Leeds, Dr Lewis is Chair the International Union of Basic and Clinical Pharmacology's Integrative and Organ Systems Pharmacology Initiative and the British Pharmacological Society's Animal Welfare and In-vivo Pharmacology Committee.
His work in South Africa was funded by the University of Leeds' Global Challenges Research Fund allocation. His work in India is funded by the UK-India Education Research Initiative.