City recognised for food sustainability credentials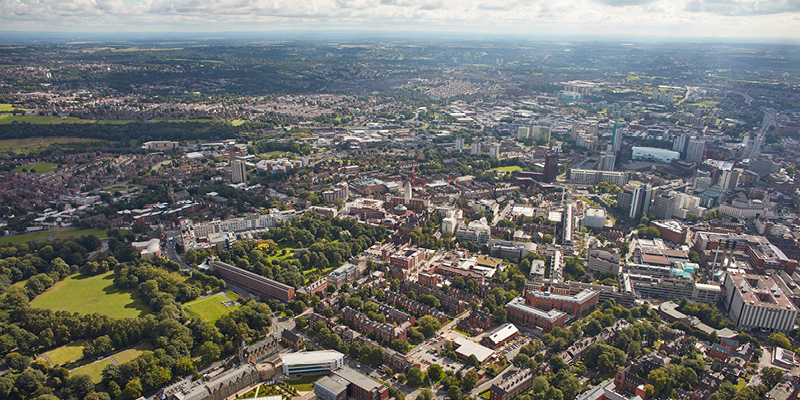 The city of Leeds has been recognised with a bronze food sustainability award from the Sustainable Food Cities Network.
The award was given to the Leeds Food Partnership, an initiative set up in 2018 which involves a number of researchers from the University of Leeds.
The partnership helps to celebrate good food practices and to address health inequalities in Leeds. It benefits the city by reducing food poverty, supporting local food businesses, reducing the environmental impact of food, influencing the trade and consumption of food, and promoting growing and cooking skills.
Professor Les Firbank, Chair in Sustainable Agriculture at the University of Leeds, said: "Food is both at the core of some of the city's biggest challenges, but also a vital part of solutions. The evidence-based, partnership approach recognises food action is needed and we are glad to be working alongside partners to help make the most of this.
"The LFP is just one of a range of positive health and nutrition areas of work across the city which is attracting attention for delivering positive outcomes. The award will help us to target obesity, other diet-related ill-health, nutritional care, poverty and waste; promote businesses, innovation, and food tourism, as well as linking to climate change, urban sustainability and public safety."
The LFP is delivered by Leeds City Council, the University of Leeds, and a range of local food networks, businesses, NGOs and community partners.
Sonja Woodcock, Sustainable Food Cities Coordinator for the Leeds Food Partnership, said: "The partnership is raising the profile and exploring solutions to food issues, including promoting healthy and sustainable food, tackling food poverty, diet-related ill health and access to affordable healthy food and building community food knowledge, skills, resources and projects.
"Working together we're keen to promote a vibrant, diverse and sustainable food economy, while helping transform catering and food procurement, reducing both waste and the ecological footprint of the food system."
Councillor Rebecca Charlwood, Chair of Leeds Health and Wellbeing Board at Leeds City Council, said: "This is a great recognition for a really important cross-sector partnership of public agencies, businesses, and academics in Leeds, helping us agree a city vision for food and develop a food action plan which doesn't just improve nutrition, but also builds into our vision of a more sustainable environment and climate.
"We're working hard to make it easier for people in Leeds to have access to healthier food which doesn't cost the earth, so they can benefit from the benefit of better nutrition."
Tom Bliss, Chair of Feed Leeds, said: "It's been a long journey since Feed Leeds, which represents community food growing across the city, kick-started the creation of the LFP back in 2012, and we're hugely proud and delighted to see Leeds rightfully recognised as a leading Food City.
"But we're not resting on our laurels. We're confident that Leeds is already a long way towards Silver - so watch this space."
The University of Leeds conducts a wide range of research into sustainable agriculture and smart agriculture systems, and is launching a new Global Food and Environment Institute later this month.
The University of Leeds was ranked number one in the UK in The Guardian Good University Guide 2020 for the subject area of Agriculture, Forestry and Food.
Further information
For additional information please contact University of Leeds press officer Simon Moore on +44 (0) 113 343 8059 or s.i.moore@leeds.ac.uk