Shining a light on creativity in Leeds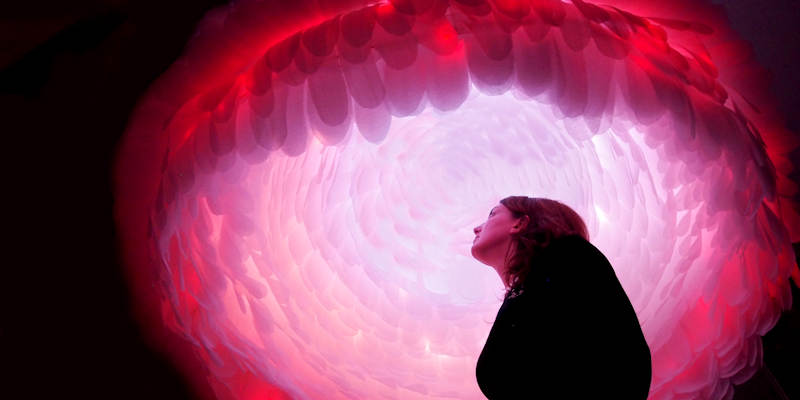 Dr Christopher Hassall, School of Biology, has collaborated with visual artist Alison Smith to create an interactive, sensory installation which will form part of the University's Light Night event.
The Nectary
A confluence of art and biology forms part of University's Light Night offering this year.
The Nectary (pictured, above) is an interactive, sensory installation, allowing visitors to experience the 'hum of the earth' through a series of huge, glowing flower heads, carefully crafted from recycled plastic and hung from trees in University Square.
The piece is the product of a collaboration between Leeds-based visual artist Alison Smith and Dr Christopher Hassall, Associate Professor in Animal Biology in the School of Biology. Originally paired through the Cultural Institute's Leeds Creative Labs programme, Alison was inspired by Dr Hassall's work investigating green space and biodiversity in urban environments – particularly how insect populations can be monitored using a novel technique called "bio-acoustics".
The green spaces on campus have now become a Living Lab project, enabling students to capture bio-acoustic recordings of insect life as part of their research. Students and researchers are working collaboratively with Estates Services to ensure their findings are informing the University's Biodiversity Action Plan and Landscape Strategy, and therefore playing a key role in delivering the University's Sustainability Strategy.
These recordings play a central role in The Nectary. Visitors place their heads inside the flowers and experience an immersive soundscape of buzzing insects, moving from plant to plant as they perform their crucial role as a pollinator. Each flower will have textures, details and scents to allow you to imagine what a bee might see when they enter a flower.
The piece presents a new perspective on the life of a pollinating insect and explores what we can gain from listening to nature, both for our wellbeing and to develop our understanding of the delicate ecosystems of which we are a part.
Alison said: "It's been fantastic to work with Dr Hassall and the Cultural Institute to realise an idea born out of our Creative Labs project, which aims to bring to life this fascinating research, while reminding us how important it is to pause and listen to the world around us."
Dr Hassall said: "The rich soundscapes of the natural world are hard to detect in this time of cars, television and dense human populations. However, listen carefully and you'll hear the birds and bees, the wind in the trees and a richness of sound that not only calms us but can be used to diagnose problems in nature. It's been a pleasure working with Alison to develop a creative way to engage people with this fascinating way of interacting with the environment to blur the boundaries of data and art."
Light Night
Light Night is the UK's largest annual arts and light festival. It will see the transformation of some of the Leeds' most recognisable indoor and outdoor spaces during two special nights (10-11 October), with spectacular artworks and captivating performances by local, national and international artists.
The free festival, launched in 2005, celebrates the city's diverse and thriving creativity and has grown year-on-year –it was enjoyed by about 80,000 visitors in 2018.
This year, Light Night will celebrate the theme of Mind, Body and Spirit. The city will come alive with more than 60 free arts events across 11 zones in the city centre, from large-scale light projections and interactive installations to music, dance and street performances.
On Friday 11 October the University will showcase its cultural attractions and some of the amazing work of colleagues and students, as part of the wider city celebrations.
Members of the public will join staff and students to enjoy performances and interactive activities coordinated by the Cultural Institute from 6-10pm.
Among visitors enjoying Light Night celebrations will be a delegation of cultural leaders from 140 European cities, as part of the EUROCITIES Culture Forum, which includes a University representative. The University will host a welcome reception on Wednesday 9 October.
Professor Frank Finlay, Cultural Institute Director and Executive Dean of the Faculty of Arts, Humanities and Cultures, said: "Light Night Leeds has grown into one of the finest festivals of its kind in the UK, attracting tens of thousands of people and families to the city centre to celebrate creativity in all its forms.
"We're delighted the University will once again play a key role in this year's festival, showcasing the ingenuity of our students and staff and opening up our campus in novel and imaginative ways."
Further information
Please feel free to ask for help or assistance on the night from one of the volunteers.
Car parking is available on campus from 5pm at the rate of £1 per hour via card only on departure (free to colleagues if their vehicle is registered).
Refreshments are available to buy from the café in Parkinson Court and the Leeds University Union throughout the evening.
Visit the Leeds City Council website for full details of the Light Night festival. Visitors are invited to help keep Light Night free by purchasing an official festival guide for £2.