Graduate wins 'British Pharmacological Society' prize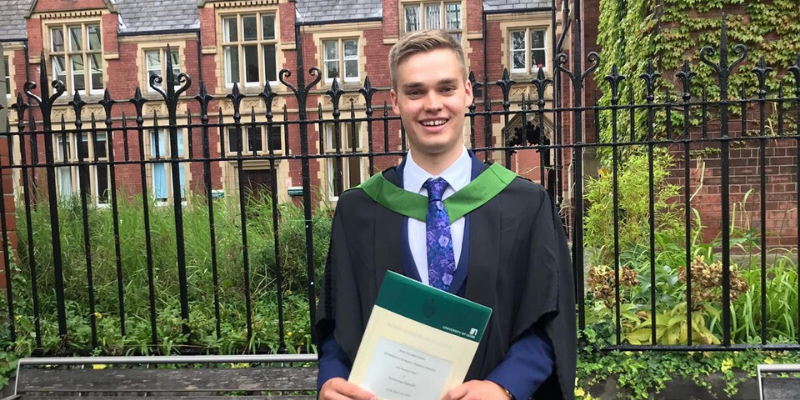 The Faculty of Biological Sciences would like to congratulate James Roberts on being awarded the British Pharmacological Society 'BSc Pharmacology Prize.'
James Roberts, who graduated with a 1st in BSc Pharmacology (Industrial), this summer, was awarded the British Pharmacological Society 'BSc Pharmacology Prize'.
Dr Dan Donnelly, Programme Leader for Pharmacology, nominated James based on his excellent performance in the final year. James graduated with the highest classification grade of his cohort and achieved 1st class marks in all of his final year modules. His impressive academic record was complemented with a very successful year as an industrial placement student at GSK in Stevenage.
While on his work placement he learned aseptic cell culture techniques, Raman spectroscopy and how novel technologies are optimised and implemented into the workflow of a cutting-edge healthcare company. He also presented his project to the BioPharm Process Research group at a departmental forum that gathered interest and sparked lots of discussion.
James's final year research project was based in the laboratory of Professor Richard Bayliss, where he screened several compounds for activity as inhibitors of Aurora-A, an enzyme with upregulated activity in many forms of cancer and thus a therapeutic target. James identified two compounds of particular interest and further studied these to suggest a mechanism of action by which they provide inhibition of this enzyme.
Professor Richard Bayliss says "James was an outstanding project student who contributed to our ongoing efforts to develop novel inhibitors of a cancer drug target."
When asked how he felt about winning the prize, James said: "I was honoured to firstly be nominated by Dr Donnelly and then delighted to have been awarded the prize by the British Pharmacological Society. It was a privilege to have my hard work recognised by such a prestigious body.
My pharmacology degree provided a detailed understanding of specific aspects of the discipline yet had a broad scope of biomedical science which I feel creates strong and diverse scientists who are competitive for any postgraduate roles. I am also very grateful to Professor Bayliss and his group for their guidance and support and was keen to learn the biochemical techniques which they use."
Since graduating, James has started an MRes in Biomedical Science at the University of Liverpool as part of a four-year Wellcome Trust funded PhD programme.
Congratulations James!