Leeds graduate wins Pharmacology Prize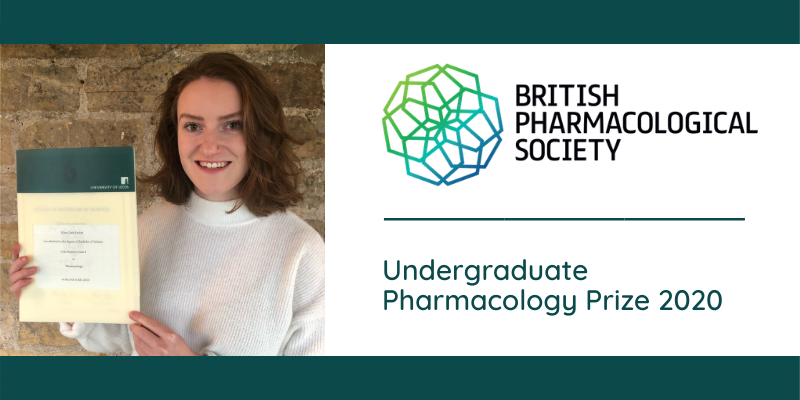 BSc Pharmacology graduate, Ellen Packer, has won the British Pharmacological Society's 'Undergraduate Pharmacology Prize'.
Ellen Packer has become the latest University of Leeds graduate to be awarded the prestigious 'Undergraduate Pharmacology Prize', after graduating with a 1st in BSc Pharmacology and receiving the highest marks in not only her course but also the School of Biomedical Sciences.
"Being recognised by the British Pharmacological Society is an outstanding achievement and well deserved. Ellen graduated with the highest overall grade across the four biomedical sciences BSc programmes and achieved 1st class marks in all of her final year modules, despite the inevitable disruptions brought about by the Covid-19 pandemic," said Dr Dan Donnelly, Programme Leader for Pharmacology.

Ellen's final year research project was based around in the laboratory of Professor Jon Lippiat.
Professor Jon Lippiat says "Ellen critically evaluated which of these drugs were likely to be active in the central nervous system and had the potential to be repurposed as stratified antiepileptic drugs. The results that were obtained during the project are helping to direct our research activity and have been used to support a grant application."
When asked how she felt about winning the prize, Ellen said: "I was shocked and honoured to have even been nominated let alone win it. It was the perfect way to end three years of hard work, especially when graduation was postponed. I absolutely loved my final year at Leeds especially my dissertation project. It was hard work and my group struggled to get results for weeks, but when the experiments finally worked it was so rewarding. Finishing my degree in lockdown was strange with online hand-ins and exams, but I'm looking forward to celebrating with everyone at Leeds when we are allowed!"
Since completing her degree, Ellen has secured a graduate job working as a Product Testing Analyst at Merck Sharpe and Dohme, she said: "I am really enjoying it. I still can't believe I'm working with so many of the drugs I studied at university. The future may be very uncertain at the moment with coronavirus, but I hope to progress within my role in the pharmaceutical industry."
What have previous winners gone on to do?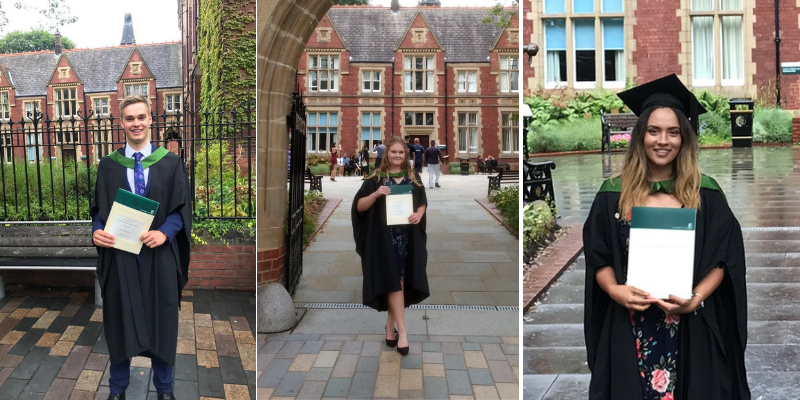 Past Winners: James Roberts (2019), Jessica Buttress (2018), Jessica Quimpo (2017).
2019 winner: James Roberts is completely an MRes in Biomedical Science at the University of Liverpool as part of a four-year Wellcome Trust funded PhD programme.

2018 winner: Jessica Buttress is PhD researcher at Newcastle University having won the MRC DiMeN funded studentship.

2017 winner: Jessica Quimpo is a Graduate Entry Medical Student University of Warwick.