'Creating possibilities and giving hope': on the GCRF frontline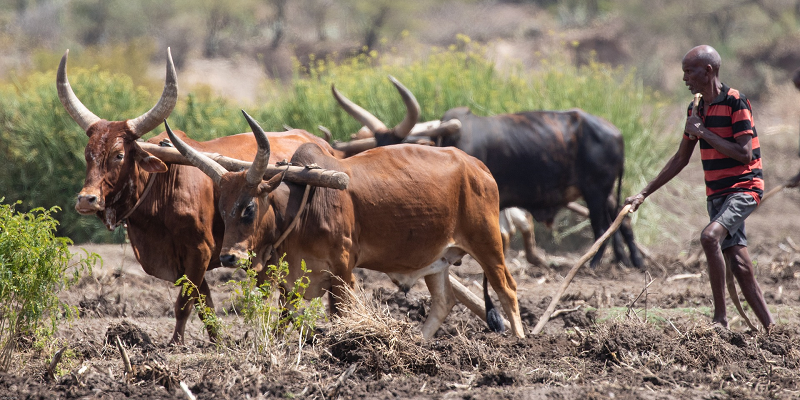 UK Research and Innovation has announced a large cut to the Global Challenges Research Fund (GCRF) as a result of the Government's decision to reduce spending on international aid.
GCRF was established to target the best of Britain's research effort at the big problems facing the world.
The University has been involved in about 150 individual projects in more than 50 countries that have been funded by GCRF, or the associated Newton Fund. Both form part of UK Overseas Development Assistance. The projects have resulted in research collaborations around the globe.
One African scientist said: "GCRF creates an atmosphere of possibilities – giving hope to countless people."
Take a look at what some of those projects have achieved.
Improving weather forecasting across Africa
GCRF has funded a major project called African Science for Weather Information and Forecasting Techniques – African SWIFT.
Extreme weather such as storms, droughts and floods have severe impacts on communities. Every year, high-intensity weather events result in devastating loss of life and damage to land and infrastructure – and they are set to increase because of climate change.
A picture taken from space of a hurricane. Picture: Pixabay
Improving the accuracy of weather forecasting is critical for people's safety, and for key economic sectors including aviation, agriculture, energy, water supply and emergency response.
The project received £7.9 million in funding from GCRF, commenced activities in 2017 and is planned to run until the end of 2021.
Doug Parker, Professor of Meteorology at Leeds and Lead Scientist with African SWIFT, said: "By improving weather forecasting, the project has had an impact on the lives of millions of ordinary people who, armed with accurate weather information, can take steps to protect themselves, their families and livestock from the effects of severe weather. It also enables organisations and governments to better respond if there is a weather emergency.
"But the biggest legacy of African SWIFT is the way it has fostered a network of operational forecasters and meteorological scientists across Africa who will continue to adapt and improve forecasting techniques in the light of the latest research long after African SWIFT has finished."
Initiatives completed by African SWIFT include:
The introduction of a technique called nowcasting, enabling meteorologists to make accurate, hour-by-hour forecasts as severe storm conditions begin to form.
In partnership with Africa's meteorological scientists, weather models are reviewed and revised to ensure they are up to date with the latest research. One project has looked at improving the prediction of the sudden and sometimes devastating storms around Lake Victoria.
Scientists involved with African SWIFT and a partner organisation, ACMAD – the African Centre of Meteorological Applications for Development, have developed techniques to try to predict the location and scale of impending meningitis outbreaks in sub-Saharan Africa using weather data.
Tackling high maternal death rates
In 2017, sub-Saharan Africa accounted for two thirds of all global maternal deaths. In Kenya there were 342 deaths per 100,000 live births – in Europe, the figure averaged around seven. African nations are unlikely to hit the UN Sustainable Development Goal to reduce preventable maternal deaths to no more than 70 in 100,000 live births by 2030.
Researchers have been investigating the factors that might be contributing to the high death rate.
A mother proudly showing off her baby. Picture: Pixabay
A GCRF-funded project involving Leeds, Makerere University in Uganda and the Catholic University of East Africa has been investigating a novel approach to ways of improving maternal health. It brought together researchers in the medical humanities with medical and public health experts.
Read more about the project, which harnessed community drama to identify the reasons why many women were accessing maternity services late in their pregnancy.
Jane Plastow, Professor of African Theatre in the School of English at Leeds and Co-Investigator on the project, said a picture emerged of over-stretched and under-resourced public maternity services; of ambulances that were either slow to turn up – or never arrived; worries that nurses would be dismissive or judgemental; and the fact that some women were going back to work days after giving birth because of family pressure.
It also revealed that messages around family planning were ineffective.
Professor Plastow added: "Our aim was to take the findings from this earlier work and develop ways of engaging with young people in Kenya around issues of sexual and reproductive health – to reduce the number of unwanted pregnancies, which we believe will help reduce the unacceptable maternal and neonatal deaths rates.
"Unfortunately, that programme was relying on a new GCRF funding package and that now seems hugely unlikely to go ahead."
Developing a disease surveillance lab
Tackling infectious diseases in low-to-middle income countries relies on global collaboration.
The latest scientific techniques and technology needed to identify and track where disease is occurring and why is often not available in the countries where it is most needed. But GCRF is beginning to change that.
Dr Oluwapelumi Adeyemi studied for his PhD as a member of Professor Nicola Stonehouse's research team in Leeds' Faculty of Biological Sciences, where he studied virus-like particles – a key component in the development of cheaper and safer vaccines.
Now back at the University of Ilorin in Nigeria, Dr Adeyemi is establishing a laboratory capable of some of the advanced molecular biology techniques he used at Leeds. With funding from GCRF, the University of Leeds has been able to make him a research visitor, allowing him to spend short periods at the University. It has also been able to send laboratory equipment and supplies.
Read how Dr Adeyemi is taking advanced molecular biology techniques to a part of Nigeria where viruses cause severe sickness and diarrhoea in children that can be fatal.
With the support of academics at Leeds, he was able to secure an additional £25,000 grant from GCRF to buy and install a piece of testing equipment called a polymerase chain reaction (PCR) instrument. It is the main piece of equipment used in testing for COVID-19. It is the only PCR machine in Kwara State, Nigeria, home to more than 2.5 million people.
The investment from GCRF was complemented by 100 million naira (£180,000) from the Nigerian Government for the establishment of a molecular diagnostics and research laboratory that would serve as a regional communicable disease surveillance laboratory.
The new molecular diagnostics laboratory at the University of Ilorin, in Nigeria. Picture: Courtesy of Dr Oluwapelumi Adeyemi
Dr Adeyemi said: "We have a molecular diagnostics laboratory which is a regional centre for disease surveillance and also for the nurturing of a new generation of African scientists. GCRF has created an atmosphere of possibilities, giving hope to countless people."
Rebuilding post-conflict societies
Researchers at Leeds are also involved in a five-year project funded by GCRF to investigates the role that civil society organisations can play in supporting young people to rebuild societies divided by past conflict. The work has generated over 20 pilot projects, spanning twelve post-conflict countries under the banner of Changing the Story.
One of projects is developing a youth-leadership programme supporting vulnerable young people that use so-called 'safe parks' in townships outside of Johannesburg.
Safe parks are run to provide spaces for the substantial number of children in South Africa who have live in extreme poverty. Many children are in households where there are no adults, a consequence of the HIV-AIDS pandemic and the violence of the apartheid years.
The researchers worked with partner organisations in South Africa to develop ways of engaging and empowering young people and to develop their leadership skills so they can begin to shape their own lives.
The project has also worked with partner organisations in South Africa to develop national standards for youth leadership training.
Read more about the work of South Africa's safe parks.
Paul Cooke, Professor in World Cinema at the University of Leeds, who led the project, said: "GCRF creates a unique space that allows researchers and people who are involved in international development to come together and to experiment in ways that other types of funding just doesn't allow.
"A lot of the work in the development sector is very risk averse – so it takes a long time for the latest ideas and working practices to come through. GCRF changed that. It allowed research techniques to be deployed quickly in the field, really helping to accelerate innovation in the sector."
Low-cost cancer diagnostics
Cancer of the stomach and oesophagus account for around one in ten cancers. Screening programmes can help reduce the number of people who die from the disease but in many low-to-middle income countries, a chronic shortage of diagnostic equipment makes it impossible to offer effective screening services.
Doctors use an endoscope to look for signs of the disease. It is a device with a small camera that can be passed down a patient's oesophagus and into their stomach, and is used to spot signs of disease and to take tissue samples.
An endoscope costs about £80,000 to buy and needs specialist cleaning and maintenance. With a GCRF grant, engineers at Leeds have re-invented the design of an endoscope, creating a prototype they believe would cost around £40 to manufacture.
Trials on patients were due to start last year but were postponed because of the pandemic. The GCRF funding stream ends at the close of this financial year.
Pietro Valdastri, Professor Robotics and Autonomous Systems at Leeds, who led the project, said: "There is a very real need to develop cheaper medical technology that can be used in countries where investment in healthcare does not match that of the richer nations. GCRF allowed that to happen.
"Our patient trials were postponed because of the pandemic – and our funding from GCRF ends next month, as always intended. We are seeking new funding for the patient trials and we hope to get that from one of the UK research councils. The focus now is on developing the device for the NHS."
Boosting sustainable agriculture
AFRICAP is an £7.9 million, four-year GCRF investment to tackle the growing gap between food needs across Africa and agricultural productivity. Food shortages have been made worse by changing climate patterns which have resulted in droughts, extreme floods, and pest infestations. AFRICAP involves collaborations with universities, policy and research institutes, and governments across the continent.
A farmer is tending to his crop in the African bush. Picture: Pixabay
Tim Benton, Professor of Population Ecology at Leeds and Principal Investigator in the project, said: "AFRICAP has co-developed interdisciplinary research spanning across agriculture and food systems, producing a comprehensive evidence base to help African countries reduce poverty and hunger whilst addressing the broader aims of the UN's Sustainable Development Goals.
"Our achievements have relied heavily on relationships of mutual trust and respect, established through Africa-UK partnerships that Leeds has invested in since 2008. Cuts to GCRF funding will not only severely diminish our potential to deliver impact in our final year through iFEED, but will also be a devastating blow for international collaboration – especially in a year when the UK is claiming to be leading international efforts to combat climate change through COP26."
Individual projects in AFRICAP include:
iFEED - an online tool that models food needs in parts of Africa in future decades, based on the way climate change may impact on agricultural production. By 2050, Africa's population will have doubled from 1 billion people to 2.4 billion. The portal will allow governments and NGOs to develop evidence-based agricultural policies, to encourage the use of crops, cultivation techniques and food production systems that are resilient to climate change and can improve food and nutrition security.
The researchers are currently building the web portal and they warn that any reductions to their budgets could jeopardise that element of the project.
Study tours in parts of Africa where researchers, government officials and farmers develop a shared knowledge of resilient food and agriculture systems as well as understanding techniques to conserve water resources and maintain a healthy soil. Farmers have said they need more training in sustainable agriculture, and that is being provided through the launch of the Muheza Learning Alliance in Tanzania which will continue beyond the AFRICAP programme.
AFRICAP is funding fellowships at Chatham House in London, where individuals from African partner organisations develop skills in policy engagement, enabling them to play a key role in food and agriculture planning at a strategic level. One of the recipients of a fellowship was Christian Chomba from Zambia. Read how he used the skills he developed to influence food policy at home.
The project has also built the capacity of UK and African partners to attract and manage large-scale collaborations, leading to the development of new research partnerships and grant funded programmes, including the Food Systems Research Network for Africa, a £2 million initiative to advance interdisciplinary African research on food systems resilience.