Leeds academics recognised for teaching excellence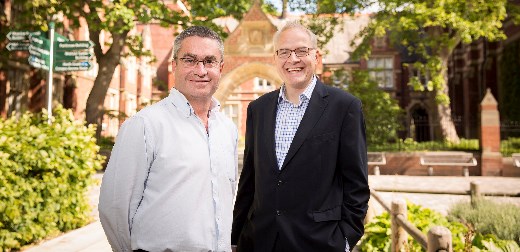 Two University of Leeds academics have received a prestigious teaching award, a National Teaching Fellowship.
The Higher Education Academy (HEA) has announced that Dr Dave Lewis, Senior Lecturer in Neuroscience and Scientific Ethics in the Faculty of Biological Sciences, and Professor Nigel Lockett, Professor of Enterprise at the University's Business School, have been awarded National Teaching Fellowships in recognition of their commitment to teaching and learning.
The two successes strengthen the University of Leeds' position as a top institution for teaching and learning, having now been awarded 22 National Teaching Fellowships - more than any other institution in England, Northern Ireland and Wales.
Dr Dave Lewis, from the School of Biomedical Sciences, said: "I think it is important to work in partnership with our students to provide an exceptional and innovative educational experience for them. I also strongly believe in the need to engage the wider community with science and its ethical implications."
Professor Nigel Lockett said: "In my role at the university I work closely with students, graduates and growing businesses to help develop their entrepreneurial skills. I always look to offer the best possible opportunities that will enable them to develop strong enterprising skills or start a successful business in the future. I really enjoy working directly with businesses as I can feed first-hand experience directly into my teaching, giving my students a better insight into industry."
Professor Stephanie Marshall, Chief Executive of the HEA, said: "The National Teaching Fellowship Scheme celebrates outstanding achievement in learning and teaching in higher education. Each year when I read about our new National Teaching Fellows what stands out for me are the comments made by their students, who describe them as innovative, engaging, entertaining, genuine, and passionate about teaching. This year is no exception. The new 2015 National Teaching Fellows we honour today are truly deserving of the award.
"Receiving a National Teaching Fellowship is just the beginning. They are an active community of passionate and enthusiastic professionals, working to enhance learning and teaching in their institutions and the sector. I'm delighted and honoured that the HEA manages such a valued, peer review-based scheme to recognise the very best in higher education teaching."
The National Teaching Fellowships scheme is managed by the Higher Education Academy and funded by the Higher Education Funding Council for England, the Higher Education Funding Council for Wales, and the Department for Employment and Learning in Northern Ireland.
In total, 55 higher education staff have been awarded National Teaching Fellowships across the UK. The awards will be formally presented at a celebration event to be held at Liverpool Cathedral in October.
Dr Dave Lewis
A deep commitment to developing students as individuals underlies Dr Lewis' approach to student education. He uses interactive approaches to stimulate his students' curiosity with science and its underlying ethical implications and to inspire them to want to discover more. In his role in the School of Biomedical Sciences at the University, Dr Lewis has developed innovative, research-based teaching which is not normally found in the curriculum, yet addresses a clear demand from employers.
Dr Lewis also passionately believes in the need to discuss topical issues in science and to talk about their ethical implications with the wider community, particularly with members of the public who don't normally engage with science. He leads major public engagement projects such as Engaging with Dementia.
To involve his students in his passion for public engagement, he established Pop-Up Science, a unique student-led public engagement volunteer scheme where students deliver activities at local community fetes and family fun-days.
He has actively promoted, both nationally and internationally, developments in student education and policy in pharmacology, physiology and bioethics through his membership of the education committees of learned societies and as a Co-convenor of the Physiological Society's Education and Teaching Theme.
In 2011, Dr Lewis was recognised for his contribution to student education when he was awarded a Teaching Fellowship from the University of Leeds. In 2012 he won the British Pharmacological Society's Rang Teaching Prize in Basic Pharmacology and in 2013 won the Physiological Society's Otto Hutter Teaching Award.
Professor Nigel Lockett
As Director of the Leeds Enterprise Centre and Head of the Management Division at Leeds University Business School, Professor Lockett is committed to providing excellent enterprise opportunities for students and graduates of the University.
Professor Lockett is a member of the Small Business Charter management board and also a Fellow and past President of the Institute for Small Business and Entrepreneurship.
Throughout his years of teaching, he has successfully delivered courses on enterprise and entrepreneurship and recently was the lead educator on the Starting a business: realise your vision free online course – or MOOC, which allowed 13,000 students from across the globe to gain expertise and knowledge to help with building a business.
Through the Goldman Sachs 10,000 Small Businesses programme, Professor Lockett has worked with a number of small business leaders.
His current research interests include academic entrepreneurship, the role of social capital in entrepreneurial learning and the use of social customer relationship management by small businesses. He is the co-author of a major textbook, Exploring Entrepreneurship, and chairs the board of trustees of Foundation, a charity committed to ending social exclusion across the North of England.
Further information
Photo: Dr Dave Lewis and Professor Nigel Lockett.
For interviews and images, please contact the University of Leeds press office on 0113 343 4031 or email pressoffice@leeds.ac.uk.