Alistair Brownlee MBE, opens our new integrative exercise suite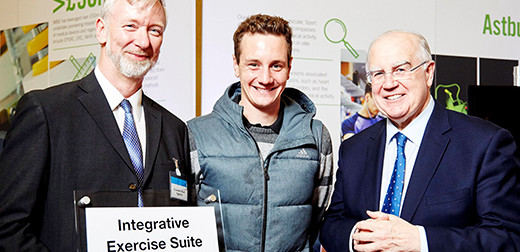 Alistair Brownlee MBE, Olympic and World Champion triathlete and Leeds alumnus (BSc Sports Science & Physiology 2009), has officially opened a new exercise science research facility at the University.
The opening of the new Integrative Exercise Suite marks the final stage of a £1m investment by the University in its world-leading Sport and Exercise Science research. This investment has provided new Integrative Exercise Medicine and Integrative Exercise Physiology labs, to explore the link between basic science and translational benefit.
Equipped with the latest technology, the new facilities will enable researchers to study how the body functions during acute activity and how it responds to training. The effect of different intensity and patterns of exercise will be monitored, and the findings used to benefit not just sportspeople but also, for example, cardiac patients and the elderly. Researchers will focus on developing more effective clinical treatments for disease prevention and rehabilitation programmes.
In opening the Integrative Exercise Suite, Alistair Brownlee said: "I enjoyed my time at Leeds, and my SES degree helps me evaluate new ideas that may improve performance. Science is important to help athletes perform to their best."
Professor Stuart Egginton, said: "We all know exercise is good for you – of all interventions it has the most benefit, for the most people, under most conditions. The challenge is to determine what form is optimal for different individuals, whether it is to improve Alistair's performance or help our clinical colleagues develop better therapies."