Leeds ecologist snaps up trip of BES photo prizes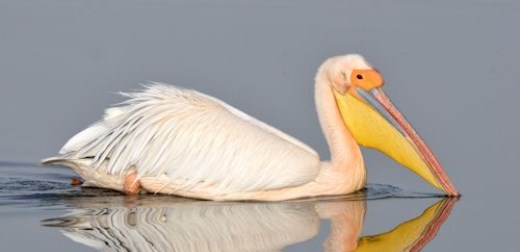 University of Leeds ecologist Dr Ute Bradter has scooped three prizes in this year's British Ecological Society photographic competition.
Dr Ute Bradter's three award-winning photos were all taken during a four-week holiday in Namibia, southwest Africa, in October 2013.
Her stunning shot of an oryx (Oryx gazella) in the dusty haze of the Nambian desert was voted overall runner-up by the competition's judges. The photo was taken during a surprise encounter coveted by all nature photographers: while taking pictures of sand dunes in the soft evening light, a magnificent oryx suddenly wandered into view.
Bradter says: "The oryx suddenly appeared and I framed it in front of the tallest dunes, because I wanted to emphasize the beauty and harshness of the desert environment in which it manages to live."
Her image of an orange-eyed Cape glossy starling (Lamprotornis nitens)sneaking a drink from a dripping tap also won the prize in the Ecology and Society category.
Although initially disappointed that the broken tap was leaking precious water, Bradter was cheered to see the birds using it as a life-giving water source in their dry desert habitat.
She explains: "I soon realized that what I regarded as wasteful was seen as an opportunity by several species of birds queuing up for a drink. When I saw my picture of this Cape glossy starling I realized this rather common species had stolen the show, as I could really appreciate the visual effect of its bright orange eyes."
Also winning the Whole Organisms and Populations category was Bradter's beautifully composed shot of a great white pelican (Pelecanus onocrotalus) fishing on a mirror calm tidal pond in Walvis Bay, Namibia.
"It was calm, sunny and with the vivid colours of early morning. A group of pelicans on a tidal pond treated us to the spectacle of their morning fishing trip. This picture is my favourite because it came from a brief moment when one bird was separated from the group so I could photograph its reflection in the water, which reminds me of the beauty of this early morning," she says.
Bradter's computer-based research on modelling of species distributions and remote sensing of biodiversity rarely gives her time for photography, so on holiday she becomes snap-happy and uses her camera as a creative outlet to express her love of nature.
"Most of the year, I rarely find the time to take pictures, but on holiday I often really focus on it. This can be pretty intense, which helps me develop as a photographer," she says.
Bradter, who has won prizes in past BES photography competitions, believes that ecological knowledge is vital to her success.
In advising aspiring ecologist photographers, she says: "Ecological knowledge will help you find habitats and species, and anticipate behaviour. Light and composition are very important, as is persistence.Understanding your camera is also vital, as it allows you to control the elements of an image and show your view of the world."
Ute Bradter wins £250 and her photographs will be exhibited at the BES Annual Meeting, which takes place this week at the Edinburgh International Conference Centre.