University's athletes claim every place in Team GB male triathlon squad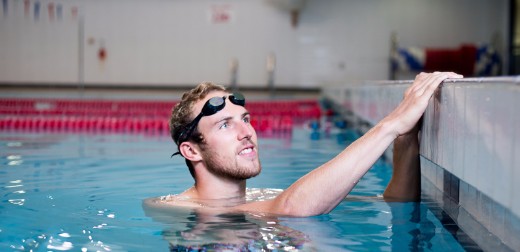 University of Leeds students and graduates claimed every place in TeamGB's Olympic Triathlon men's squad, which was officially announced at the city's Civic Hall this morning.
Johnny Brownlee (BA History 2012) and brother Alistair Brownlee (BSc Sports Science and Physiology 2009) are joined by Gordon Benson, currently studying for a BSc in Nutrition.
The announcement comes just days before the city hosts the World Series Triathlon on 11 and 12 June.
All three continue to make regular use of training facilities at the University's sporting facilities, including The Edge swimming pool, which Alistair Brownlee described as 'a fantastic pool and a great facility'.
The trio have been congratulated on their selection by the University's Head of Alumni Engagement, Phil Steel. He said: "It's a real sign of their dedication that Johnny, Ali and Gordon developed into elite athletes while still completing very demanding degree courses.
We're immensely proud of them and I'm glad the University was able to tailor the academic requirements of their degree courses to create time for them to develop into the top class athletes they are today.
Their selection to the Olympic team should inspire our current students to know the University will support them to achieve their goals."
Both the Brownlee brothers, who were also awarded honorary doctor of laws degrees from Leeds in 2013, have credited the University in helping them develop their performance.
The pair have also launched the Brownlee Foundation, which the University has partnered with to support the development of triathlon and student triathletes. This agreement includes a scholarship, for a talented student athlete to be supported academically and financially to help them pursue a career in sport.
Speaking when the scholarship was launched, Alistair Brownlee said: "We both really appreciated how the University of Leeds supported us during our time here, enabling us to juggle our education and training commitments, so we were able to enjoy the best of both worlds."
Johnny Brownlee has also explained how the University's support made a significant difference: "Both of us received scholarships from the University. I was allowed take my exams all over the world when I was qualifying for the Olympics and I could split my final year in two, which meant I could concentrate on training as a full time athlete.
"We trained at The Edge at least twice a week. The fact that the pool and gym were on site when we were studying made it so much easier to fit training in."
Gordon Benson, the third member of the team, is currently reading for a BSc in Nutrition, and also credits the University with helping him succeed: "My mind and heart were set on Leeds so I enrolled on nutrition, and from the first couple of weeks I thought 'Yeah, I'm into this'. I've been fortunate to have a lot of support from the Uni. It's almost a welcome distraction sometimes."
As well as the men's TeamGB squad announced today, two of the three members of the women's team regularly train at the University's facilities: Non Stanford and Vicky Holland both plough through hundreds of lengths each week to remain in peak condition.
The Edge is part of the Leeds Triathlon Centre, a joint project between the University of Leeds, British Triathlon, Leeds City Council and Leeds Beckett University and is a dedicated centre for training elite athletes in the sport.
It is widely regarded as the leading triathlon programme in the world, and Stewart Ross, Leeds' Director of Commercialisation and Campus Support believes the quality of its coaching is the reason why so many of the athletes who regularly train there have secured TeamGB places.
The centre currently supports around 80 athletes in their aspirations to become the best in the world, 14 of which are part of an elite training squad. Between 2009 and 2014, athletes from Leeds won 17 medals in Olympic, Commonwealth and World Championships.
Backed by Research from FBS
In addition to supporting individual students with potential to reach the pinnacle of their sport, the University of Leeds' academic staff also carry out research into the effects on triathlon competition on elite athletes.
Dr Neil Messenger from the School of Biomedical Sciences in the Faculty of Biological Sciences has conducted extensive research into overuse injuries caused by physical activity in sport and exercise, and how in some cases these can result in the complete withdrawal of an athlete from their sport.
The University's sports science facilities include specialist equipment such as echocardiograms (ECG), breath-by-breath metabolic analysis, tissue oxygenation, advanced three-dimensional movement tracking and analysis, force platforms, electromyography (EMG) and transcranial magnetic stimulation equipment (TMS).
In addition, the University's Sport and Physical Exercise Service provides extensive support for students interested in triathlon sports.
Further information
Peter Le Riche, University of Leeds press office, 0113 343 2049 | p.leriche@leeds.ac.uk