University welcomes Chinese Ambassador on his first visit to Leeds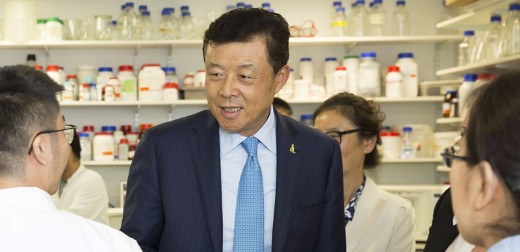 China's Ambassador to the UK was shown a wealth of world-leading University of Leeds research and culture on his first visit to the city.
The main purpose of His Excellence Liu Xiaoming's trip this week was to watch the world premiere of a new play devised as part of a collaborative project with students from Beijing. The University also presented examples of its scientific research and innovation in a review led by Deputy Vice-Chancellor John Fisher.
Professor Fisher said: "It was a pleasure to welcome His Excellence Liu Xiaoming on his first visit to Leeds, and to show him some of the exciting work colleagues are doing at the University, across engineering, biological and environmental sciences – among other things."
Presentations were made by staff from the University's Institute of Medical and Biological Engineering, Centre for Plant Sciences and Astbury Centre for Structural Molecular Biology. The Chinese delegation also visited the Business Confucius Institute at the University's Business School.
Later, Vice-Chancellor Sir Alan Langlands welcomed the Ambassador to the premiere of A Midsummer Night's DREAMING Under the Southern Bough at the stage@leeds performance space.
Sir Alan praised the staff and students from both countries for the "bold and imaginative" project, which features the work of Tang Xianzu – Shakespeare's Chinese contemporary – who like the Bard of Stratford also died 400 years ago this year.
After months spent rehearsing on opposite sides of the world, the students in Yorkshire came together with their counterparts from Beijing's University of International Business and Economics to perform together for the first time.
Next, they will perform at the Edinburgh Fringe from 5-13 August then, in September, in Beijing, Shanghai and Tang's hometown of Fuzhou.
Sir Alan Langlands said: "This is the result of tremendous hard work, commitment and creativity on the part of staff and students at the University of Leeds and our friends and partners at the University of International Business & Economics – our Confucius Institute partner.
"Inter-cultural theatre is a bridge between our two nations, opening up a new dialogue and opportunities for higher education, research and public engagement. This work also stretches the intellectual horizons, inter-cultural understanding and performance skills of our wonderful students from the UK and China."
Responding, His Excellence Liu Xiaoming said: "This is my first visit to Leeds. But Leeds is no stranger to me. The University of Leeds is a prestigious university with a long history. Today, 2,000 Chinese students are studying here. This makes the University of Leeds a meeting place for different cultures.
"Tang and Shakespeare are the best examples to show that China and the UK are both great nations with a time-honoured culture and history."
The Ambassador referred to the keen interest in the playwrights' joint commemoration shown by Chinese President Xi Jinping's state visit to the UK last year.
Quoting a Shakespeare poem in praise of youth, Liu Xiaoming added: "Youth represents the future of China and Britain. Youth represents the future of China-UK relations. I encourage more and more young Chinese and British to come together to commemorate William Shakespeare and Tang Xianzu, in order to engage in closer communication and cooperation, in order to gain better understanding of each other's culture and build a deeper friendship, and in order to cement the foundation of the golden era of China-UK relations and create a brighter future for our two countries."
Further information
Shakespeare and Tang Xianzu: Celebrating a 400 Year Legacy, is a partnership project between the University of Leeds and Beijing's University of International Business and Economics (UIBE), sponsored by commercial partners, Bank of China and China Eastern Airlines.
It has also been made possible thanks to the support of the University of Leeds (Footsteps Fund, Creative and Cultural Industries Exchange, stage@leeds, Staging ChinaInternational Research Network, the Schools of Performance and Cultural Industries;Languages, Cultures and Societies and English, Business Confucius Institute); the Sino-British Fellowship Trust; the British Council; the UK universities of London (SOAS), Newcastle and Aberdeen; the Chinese universities of Tsinghua, Nankai, Fudan and Zhejiang; Shanghai Theatre Academy and Shanghai Dramatic Arts Centre.
For further details, images or full captions, please contact University of Leeds Media Relations Manager Gareth Dant on 0113 3433996 or email g.j.dant@leeds.ac.uk.