Satisfaction at Leeds with National Student Survey 2016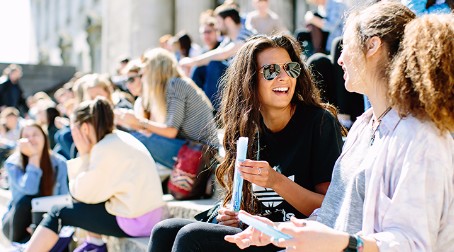 The Faculty of Biological Sciences has seen yet another impressive set of results in this year's National Student Survey (NSS).
The annual survey asks students to rate everything from teaching quality to learning resources. It is an excellent gauge of the value our faculty is providing students whilst they are here at Leeds.
Within the School of Biomedical Sciences, both Pharmacology and Sports Sciences were rated the best/number 1 in the UK within their subject areas for overall student satisfaction with scores of 100% and 95%, respectively. Other programmes within Biomedical Sciences also scored highly to produce a combined score of 97% for overall student satisfaction.
There were also great results in other schools; for example, Microbiology within the School of Molecular and Cellular Biology scored 96% for overall satisfaction confirming its place in the top 3 for the whole of the UK. Improved scores were also obtained for the School of Biology.
Along with the excellent results for FBS the University as a whole received some great feedback. The survey placed Leeds University joint second place among the Russell Group for satisfaction – up from joint third last year.
The positive response from students reflects the dedication and commitment of staff to design and deliver courses that provide an excellent blend of small group teaching, practical training, project work and stimulating lectures by academics who are leaders in their fields of research.
With 90% of final year students saying they were satisfied or very satisfied with the overall quality of their course at Leeds, the result is above the HEI sector average of 86%.
Leeds University Union continues to receive one of the sector's highest rankings, and its satisfaction rating of 92% is significantly above the average of 69%.
The results mean that Leeds joins the NSS top 20 higher education institutions in the UK for the first time, which includes a number of small, specialist institutions.
About the NSS
The NSS is a national survey taken by final year undergraduate students at all publicly funded Higher Education Institutions, to provide honest feedback on what it has been like to study their course at their institution. Questions are asked on subjects including the teaching on the course, assessment and feedback academic support, organisation and management, learning resources, personal development and overall satisfaction.
Related links
National Student Survey - www.thestudentsurvey.com
University of Leeds - Student satisfaction rises