COVID-19 contributions: Dispelling myths and supporting our communities
Professor Nicola Stonehouse is a Fellow of the Royal Society of Biology and professor in Molecular Virology specialising in virus replication and vaccine development.
Over the last year, she has worked with news and media outlets, charities, and local communities to support and share information about the coronavirus pandemic and how we can work together as a community to overcome the impact.
Dispelling myths about vaccinations
Since last February, Professor Stonehouse has been working regularly with a number of news outlets including BBC, ITV and Sky to give expert insight into pandemic developments, with one of her proudest contributions being the work she has done with local news and media to help the local community and to dispel false rumours and myths regarding vaccinations.
"The proudest achievement of the work that I've done is actually the time spent with local radio and TV answering peoples' questions, as I think it's really important to support our local community," said Professor Stonehouse.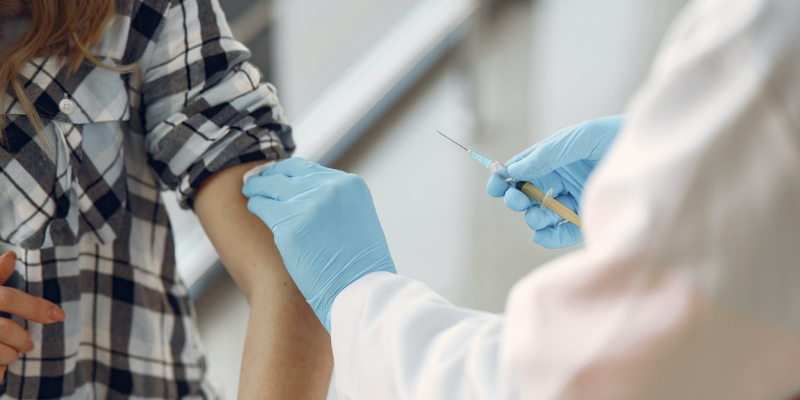 She has worked with care home providers including Care UK and Barchester, answering questions and concerns about vaccine hesitancy and dispelling misconceptions about the COVID-19 vaccines.
"The most common misconception is regarding the speed at which the vaccine has become available to the public. There are false beliefs that this is down to the development stage 'cutting corners' which is simply not true. Funding for the development of vaccines to fight the COVID-19 was available from a range of sources, and existing technology, including other SARS vaccines, was used as a base, so they are not starting from scratch," said Professor Stonehouse.
Barchester, the second-largest provider of care homes in the UK, has since reported that over 90% of their care home staff have now been vaccinated.
Professor Stonehouse supported Professor Mark Harris to organise the Lighthouse labs volunteering programme that saw University of Leeds staff and postgraduate students volunteering their time to help out at COVID-19 testing centres. This has contributed enormously to ensure an increase in testing in the UK.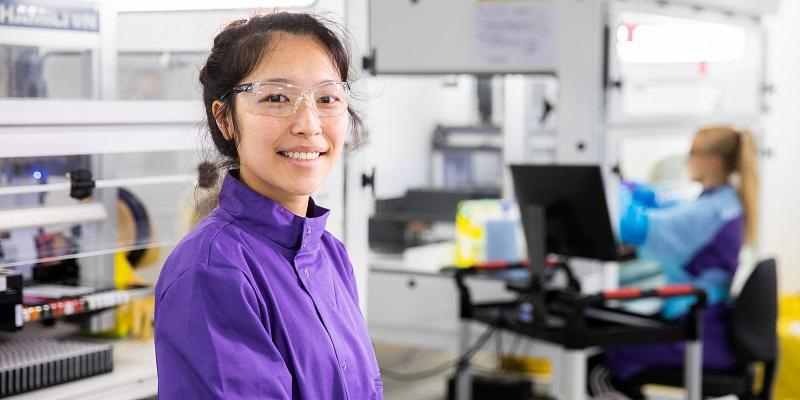 She said, "Our staff and postgraduate students at the University of Leeds enthusiastically volunteered and said we'll go, we'll do whatever, we'll go wherever – it was fantastic how everyone pulled together."
A new molecular diagnostics laboratory with COVID-19 testing equipment has been established at the University of Ilorin, in Nigeria by Dr Oluwapelumi Adeyemi, who studied his PhD as a member of Professor Stonehouse's research team.
Professor Stonehouse has assisted Dr Adeyemi in securing funding from the Global Challenges Research Fund (GCRF) so that the 2.5 million people living in Kwara State, Nigeria will now have access to COVID-19 testing technology.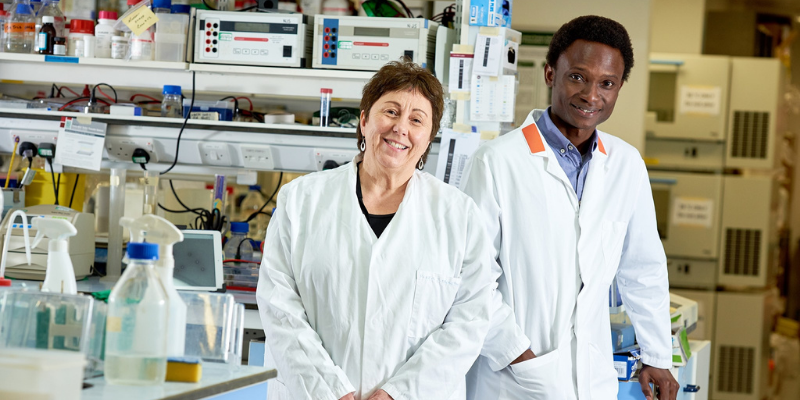 Professor Nicola Stonehouse and Dr Oluwapelumi Adeyemi.
A new practical module for final year students
Due to social-distancing safety measures, practical lab teaching had been disrupted during the pandemic. To ensure students were still able to receive vital high-quality teaching, Professor Stonehouse supported Dr Aysha Divan and Professor Mark Harris in the development of a new hospital-based practical module that allowed students to gain first-hand experience of working in local hospitals.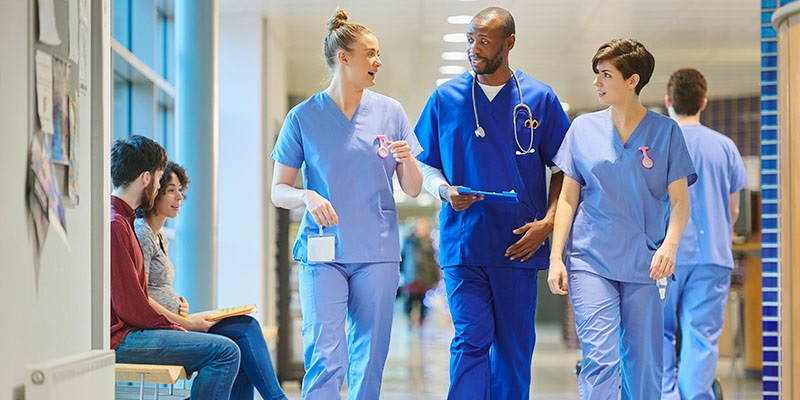 The module has enabled final year students, studying in the School of Molecular and Cellular Biology, to work in both St James Hospital and Leeds General Infirmary. Students have gained valuable hands-on and practical experience by assisting the hospitals in the testing of staff and A&E patients.
Research into vaccines for future pandemics
While the impact of the COVID-19 pandemic has been far-reaching, Professor Stonehouse is one of many virologists who warns that this will not be a one-off occurrence, she warns: "There have been three outbreaks of coronaviruses in the last 20 years and we should therefore put plans in place in order to deal with another pandemic in the future."
In order to tackle the next pandemic, Professor Stonehouse and her team are researching flexible vaccines that could be used as a quick way to respond to future disease outbreaks.
Further information:
Read more stories from the Faculty of Biological Sciences about our staff and students contributions to fighting the COVID-19 pandemic.