Funding secured to support UK Black plant scientists
A network designed to support and celebrate Black plant scientists has been awarded £65,000 to grow its impact
The funding, which has been awarded to the Black in Plant Science network by the Gatsby Foundation, will connect, celebrate and cultivate aspiring Black scientists through a mentoring programme, face-to-face networking opportunities and career workshops.
It will also support a dynamic and inclusive online community, with the aim of promoting the voices and achievements of past and current Black scientists. This will involve awarding two prizes to early career researchers for excellence in research and communication.
Evidence suggests that UK-based Black plant scientists are often the sole Black employee in their department or organisation and the sole Black delegate at meetings and conferences. This lack of community can be isolating and discouraging, leading to a loss of talent.
Opportunities where scientists can come together and share their lived experiences, such as through networking events and workshops, aim to overcome this challenge, as well as foster an inclusive and supportive environment so that Black researchers can reach their full potential and feel a sense of belonging.
A rich and dynamic mentoring programme will provide support for early career researchers whilst a virtual "mentor-the-mentor" event will create a safe space where supervisors and Primary Investigators who are hosting or wish to host Black researchers can ask questions about how to successfully support those from minority backgrounds within majority-white institutions.
The network also plans to provide travel subsidies to enable early career researchers to attend flagship biology conferences, such as the American Society of Plant Biologists conference in 2024.
The programme of activities will be shaped by community feedback and will both draw on learning and leverage successes from other programmes with shared outputs such as the NAASC Inclusivity Scholars Program, the JR Biotek Foundation and Gatsby Plant Science Summer School.
Dr Yoselin Benitez-Alfonso, Associate Professor in Plant Sciences in the School of Biology, and co-founder of the Black in Plant Science network commented:
"Creating a dynamic, diverse, and inclusive research system is not only ethically right but it also maximises research impact.
"However, the creation of inclusive environments where everyone can participate equally, where everyone's voice matters and where everyone benefits comes with numerous challenges.
"One way to meet these challenges is to form networks that support and nurture individuals from underrepresented groups.
This new funding will underpin our newly established network to provide skills, opportunities, mentorship and role models for UK-based Black plant scientists.
Dr Nicola Patron, Group Leader in Synthetic Biology at the Earlham Institute, and co-founder of the Black in Plant Science network added:
"This funding will enable us to deliver a program of mentorship, awards and opportunities for existing and aspiring Black scientists with the aim of improving their experiences and encouraging achievement and retention."
Gatsby Plant Science Advisors, Professor Liam Dolan, Dr Eirini Kaiserli, Professor Jane Langdale, Professor Steven Spoel, and Professor Nick Talbot, said:
"We are very pleased to support the Black in Plant Science initiative, which will provide new networking and mentoring opportunities for Black plant scientists, spotlight past and future innovations by Black scientists and help cultivate a more diverse and equal research environment.
Gatsby Plant Science recognises the need for such important programmes to increase diversity and inclusivity in our research system and applauds the transformative initiatives proposed by Black in Plant Science.
The Black in Plant Science network was founded in March 2023 by a group of Black scientists in both academia and industry and was established in response to the underrepresentation of UK based Black scientists in STEM.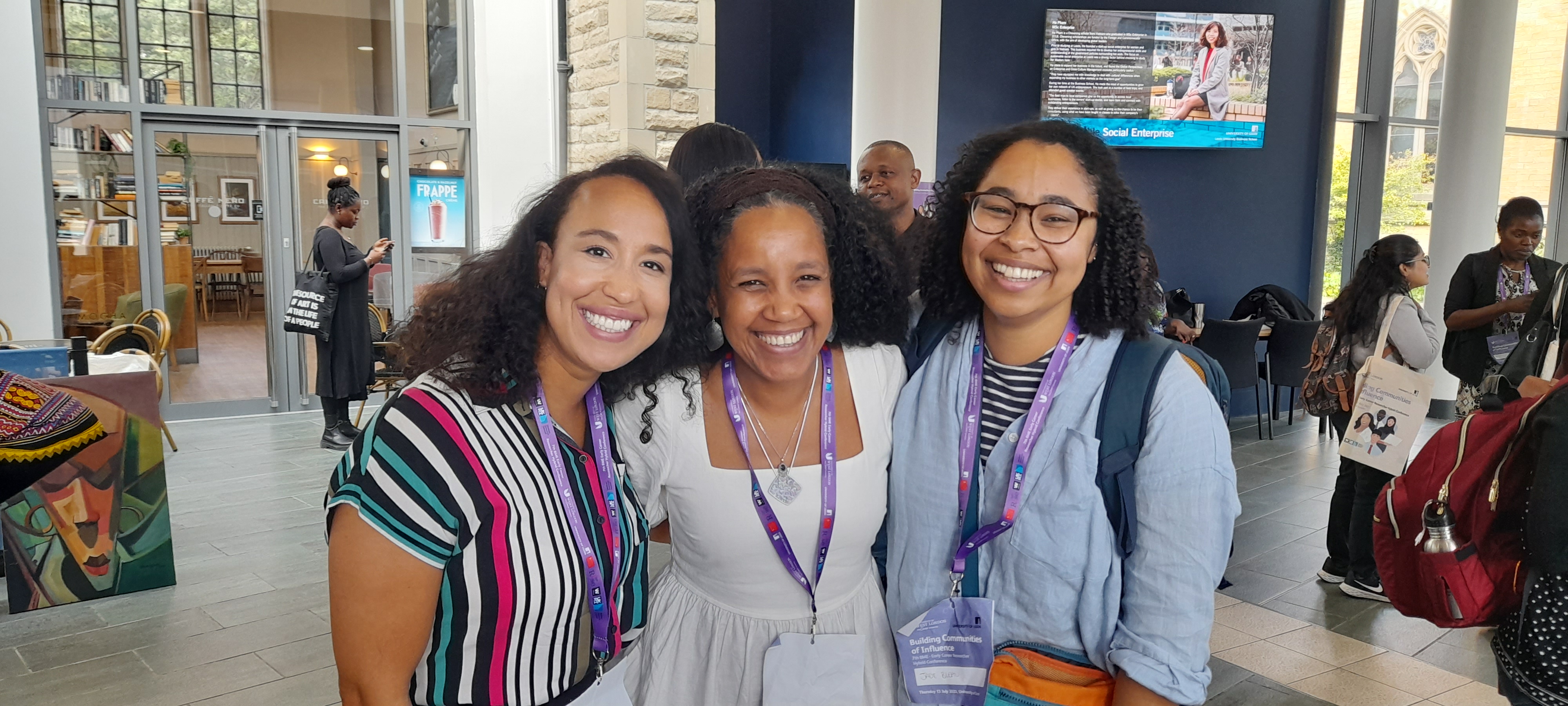 From left to right: Dr Mikhaela Neequaye, Dr Yoselin Benitez-Alfonso and Dr Jade Bleau
In the 2021 census, nearly 6% of the UK population identified as Black, yet only 0.7% of full professors and 2.7% of academics are Black.
Numbers for Black postgraduate students and post-doctoral researchers are not currently collated at the national level but anecdotal evidence from individual organisations, suggests that participation in STEM, including the plant sciences, is very low.
In UK plant sciences, there are also a very small number of Black researchers in leadership roles.
Representation is important as students studying in departments that include at least one underrepresented faculty member are more likely to aspire to leadership positions.
To join the network, please fill in this form. For enquiries regarding partnerships and collaborations, email info@blackinplantscience.org.
You can also follow the network on Twitter and Linkedin.