New banners unveiled at Parkinson Court South for Black History Month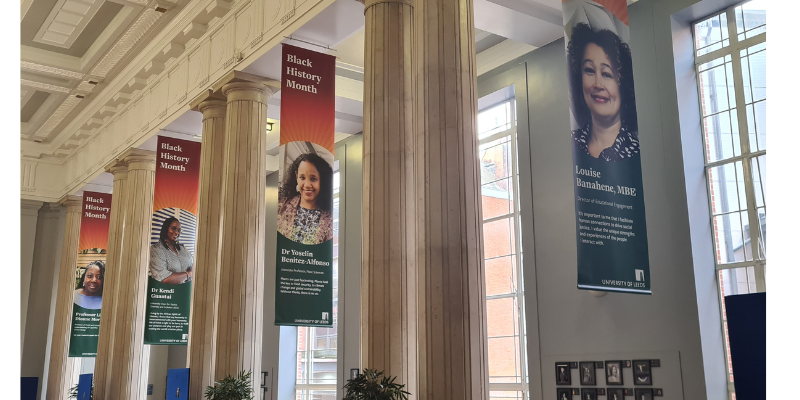 The flags feature photographs and soundbites from Black women figures at University of Leeds, including Dr Yoselin Benitez-Alfonso, Associate Professor in the School of Biology.
The four banners, which measure 4.5 metres in length, have been installed to celebrate the talent and achievements of Black women leaders and role models at the University.
The flags feature:
Whilst launched to celebrate Black History Month, the flags will remain until mid November and will continued to be used in the future because fostering inclusivity, ensuring visibility and a sense of belonging for under-represented members of our community is crucial beyond awareness-raising months.
Commenting on her involvement, Dr Benitez-Alfonso, Associate Professor in the School of Biology and co-founder of the Black in Plant Science network said:
"It is such an honour to be displayed at the Parkinson Building alongside these incredible women leaders in their field. The feedback I've received has been outstanding and it's made me more aware of the need to see people like me in these spaces.
"Plants are highly diverse organisms which make important connections with their surroundings. As such, they are models of communities living in harmony.
Observing plants can teach us kindness and how diversity can help us thrive. I want to inspire as many people as I can to study plants, and this is one step in the right direction!
Ways to get involved this Black History Month
Join the Black in Plant Science network
Are you based in the UK, of Black heritage and currently studying, working in, or engaging with plant science? If so, join the Black in Plant Science network.
The Black in Plant Science network was founded in March 2023 by a group of Black scientists in both academia and industry in response to the underrepresentation of UK based Black scientists in STEM.
It's a particularly exciting time to join the network as they've recently secured funding to develop a broad programme of activity including a new online community, a programme of networking events, a mentor-to-mentor scheme, as well as funded places for flagship Biology conferences.
Living Library
A living library is a collection of living books where humans share their life stories with other humans.
Visiting 'readers' will be able to have 15-minute conversations with the human 'books' to find out more about their lives, careers and inspirations.
With a focus on the richness and diversity of cultures, nationality, and heritage within our Black community, it is chance to have an open dialogue, challenge unconscious bias and build connections.
Watch a video guide to how the Living Library works.
Film Screening | Under Your Nose
Wednesday 25 October, 1-3pm
For Black History Month, the Women at Leeds Network will be screening the documentary 'Under Your Nose', which explores intersectional Black LGBT+ Activism histories in UK. Using interviews, archival materials, and old footage, 'Under Your Nose' charts the journey of trailblazers who in the 1980s joined the fight to open a Black Lesbian and Gay Centre for the Black community.
Register for the free screening of 'Under Your Nose' on ticketsource.
Further reading
Inspirational Professor launches Black Female Academics' Network