Leeds academic wins national award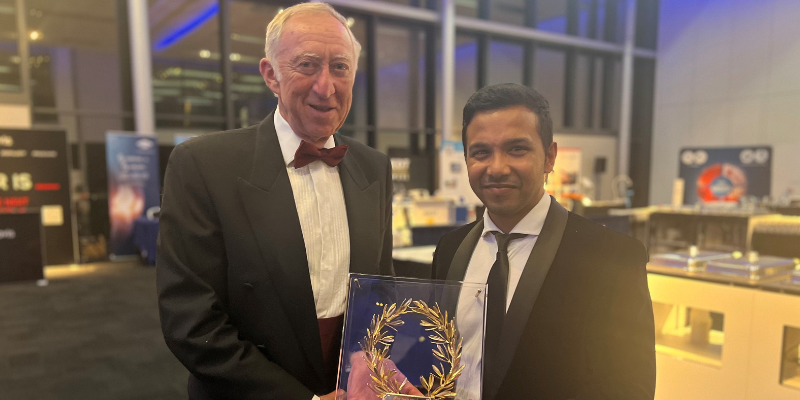 Dr Dane Vishnubala, Academic Clinical Lead and Researcher in the School of Biomedical Sciences, has been honoured by The British Association of Sport and Exercise Medicine (BASEM).
The David Hemery CBE Outstanding Contribution to Lifestyle Medicine award, which aims to recognise excellence in Sports and Exercise Medicine, was presented at the BASEM 2023 annual national conference on Friday 6th October in Manchester, which brought together over 300 leading health professionals and scientists to share and discuss the latest scientific research and clinical best practice in Sport and Exercise Medicine.
Commenting on his award, Dr Vishnubala said:
"I have always been passionate about physical activity in lifestyle and the positive impact it can have on people's lives. Working across multiple organisations in education, the third sector, government and business has enabled me to champion this approach in all areas of healthcare.
I'm delighted to receive this award from BASEM and I look forward to continuing my work in physical activity supported by the University of Leeds.
Dr Vishnubala is a Consultant Physician in Sport and Exercise Medicine who has over 20 years of experience in the health and fitness sector.
He has a passion for academia and education and has trained thousands of exercise and health care professionals in physical activity for long term conditions by working as the lead doctor for what was Public Health England's national Physical Activity HCP Education Programme and for health training provider, CORE Fitness Education.
Since 2015, he has also provided strategic leadership in a range of positions in sport and medicine including as Chief Medical Officer for Basketball England, GB Basketball and Volleyball England, Chief Medical Advisor to Active IQ and Clinical Fellow for the Royal College of GPs (RCGP) as well as one of the Lead Doctors for Moving Medicine Primary Prevention Resources which is a national physical activity resource aimed at patients and health care professionals.
From there, he co-established the MSc in Sports and Exercise Medicine in the Faculty of Biological Sciences in 2016, which he continues to co-lead and teach.
In his role at the University of Leeds, he continues to work with national partners to maintain and grow education and research in the healthcare professional education space. He has also been an expert advisor sitting on the UK Chief Medical Officer's Physical Activity Communications Expert Advisory Group and has previously supported the British Lung Foundation as well as UK Active in developing national standards around physical activity and long-term conditions.
Through BASEM, Dr Vishnubala has provided physical activity and lifestyle education to a wide range of organisations, including Greggs and Royal Society of Public Health (RSPH).
Professor Richard Callaghan, Head of the School of Biomedical Sciences congratulated Dr Vishnubala on his award saying:
"This award is much deserved and is a testament to Dr Vishnubala's commitment to improving lives through lifestyle medicine.
We're delighted to have him in our team where he continues to push the boundaries in his research and use this newfound knowledge to drive our world class teaching programmes.
Banner image description:
From left to right: David Hemery CBE, Dr Dane Vishnubala