Prof Ronaldo Ichiyama
Position: Professor of Neural Control of Movement
Areas of expertise: spinal cord injury; motor control; locomotion; motoneurone; neuroregeneration, plasticity
Email: R.M.Ichiyama@leeds.ac.uk
Phone: +44(0)113 343 4291
Location: G5.55a Garstang
Profile
B.Sc., Lic. Universidade Estadual de Campinas (Brazil), M.Sc. University of Illinois at Urbana-Champaign (USA), Ph.D. University of Illinois at Urbana-Champaign (USA), Postdoctoral Fellow University of California Los Angeles (USA).
Responsibilities
Head of Graduate School
Director of Postgraduate Research Studies
Research interests
Structural and Functional Plasticity in the CNS : activity dependent plasticity in the spinal cord
Neuroscience Research at Leeds (NeuR@L)
Neural Control of Movement
The mechanisms related to the neural control of movement in mammalian systems are largely unanswered, simply because the intricacies of interneuronal communication and computations necessary to produce coordinated, voluntary movements are of such complexity that we have only begun to understand them. Relative to the overwhelming complexity of the supraspinal control of movement, the spinal neural circuits provide a simpler model to investigate motor control issues. This does not, however, imply that spinal control of movement in mammalian species is a simple model. My research has focused on the changes within the spinal cord that occur after a complete spinal cord transection and on the activity-dependent plasticity in the spinal neural circuits associated with locomotor training after the spinal cord injury. We have used behavioural, immunohistochemical, electron microscopic and electrophysiologic methods to investigate those issues. The combined results strongly suggest that the biochemical, structural, and electrophysiological properties of motoneurons change dramatically within the spinal cord isolated from the brain, which are altered by locomotor training. Understanding these processes in detail will provide critical insight into the mechanisms involved in the control and learning of movements within spinal cord neural circuits.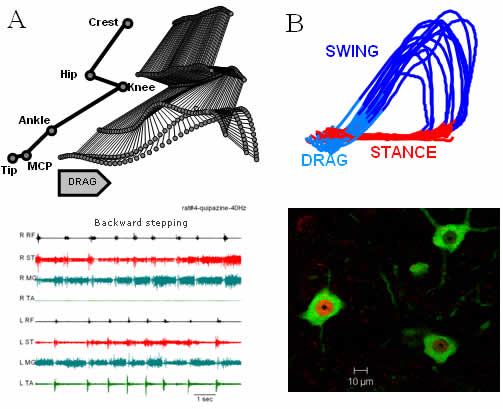 A,B. Detailed kinematics analysis of movement and physiological measurements such as EMG (C) are combined to study the neuronal events that lead to plasticity in the CNS. D, shows selective spinal motoneurons (green) active during locomotion (red).
Neural Control of Cardiorespiratory Function in Exercise
Another interest in my lab is the neural control of cardiovascular function related to movement production and exercise. During muscular activity, two basic mechanisms control cardiovascular adjustments: a central command and a reflex arising from the contracting muscles, which is dependent on medullary centers. I have investigated issues related to both of those mechanisms. We have implicated higher cortical centers (insular cortex) in the central command circuitry. In addition, I have demonstrated that specific locomotor and cardiovascular control areas in the brain change with exercise training. The posterior hypothalamus nucleus, the mesencephalic locomotor region, periaqueductal grey, nucleus of the tractus solitarius and the rostral ventrolateral medulla showed diminished, possibly more efficient, activation profiles (cfos) in exercised than in non-exercised rats in response to a single bout of controlled exercise.
Spinal Cord Injury, Neural Regeneration and Functional Recovery
After a spinal cord injury, the remaining unaffected spinal tissue changes to a great extent. A successful neural regenerative strategy will have to overcome not only all the obstacles that the injury site itself presents (glial scaring, physical gap, etc.) but also a new environment that has formed below the level of the lesion. We hypothesize that the beneficial effects of locomotor training will potentiate the effects of regenerative strategies. We have combined locomotor training with different potential neural regenerative strategies, with both positive and surprising results. Given the nature of spinal cord injuries, we firmly believe that only a combination strategy will be effective in regenerating and forming functional synaptic reconnections after an injury.
We have developed a technique to epidurally stimulate the spinal cord, which produces alternating and coordinated steps in completely spinalized adult rats. This technique allows us to study the control of locomotion in an in vivo adult mammalian preparation, which was not possible previously. We have used this technique to investigate reflex control mechanisms in the intact spinal cord and also after a complete spinal transection.
Locomotor Training in Chronic Adult Spinal Cord Injured Rats: Plasticity of interneurons and motoneurons.

Combinatorial interventions for recovery of function after spinal cord injuries: mechanisms of anti-Nogo-A antibody, epidural stimulation and locomotor training

Perineuronal nets and chondroitin sulfate proteoglycans in rehabilitation after spinal cord injuries.

Ultrastructural, physiological and functional plasticity of Gamma Motoneurons

Morphological and neurochemical characterization of central cardiorespiratory centers in exercise

Neuroregeneration and axonal sprouting: exercise and locomotor training
<h4>Research projects</h4> <p>Any research projects I'm currently working on will be listed below. Our list of all <a href="https://biologicalsciences.leeds.ac.uk/dir/research-projects">research projects</a> allows you to view and search the full list of projects in the faculty.</p>
Qualifications
Student education
Postgraduate studentship areas:
Morphological and ultrastructural synaptic plasticity
Neural Regeneration and Exercise
Spinal Cord Injuries: locomotion and neural control of movement
Central control of cardiovascular and respiratory function in exercise
See also:
Academic roles:
Head of Graduate School – Faculty of Biological Sciences
Chair of Progression and Quality Group – Doctoral College
Committees:
Chair of Graduate School Committee – Faculty of Biological Sciences
Chair of Programmes and Quality Group – Doctoral College – University of Leeds
Member of Graduate Board – University of Leeds
Member of Pricing and Scholarships Group – University of Leeds
Member of PGR Development Group – University of Leeds
Member of Faculty Executive Committee – Faculty of Biological Sciences
Current postgraduate researchers