Cutting edge pancreatic cancer research is awarded grant funding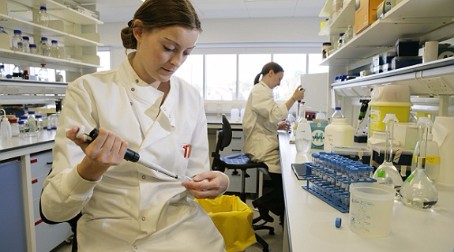 Professor Alex Breeze of the Faculty of Biological Sciences has received significant funding for key pancreatic cancer research.
The research will be carried out in collaboration with Professor Mike Waring of Newcastle University. The project is part of five projects that have received funding from the national charity Pancreatic Cancer Research Fund (PCRF).
Professors Breeze and Waring are developing new compounds to block a vicious cycle of signals that occurs in cancer between two proteins called SOS and Ras. Usually, SOS tells Ras to switch on, help a cell divide and then switch off; but when Ras mutates, it becomes permanently switched on and causes cells to divide uncontrollably. Mutated Ras is found in 90 per cent of pancreatic tumours, but blocking it with drugs has not been possible. The team aims to show they can target SOS instead of Ras to block this abnormal interplay of signals.
The five research projects have the potential to make a real difference to tackling pancreatic cancer and have been awarded grants by the national charity PCRF, worth over £800k in total.
Two of the projects - a diagnostic test for early-stage pancreatic cancer and a new peptide-drug, both developed thanks to previous PCRF funding – will use their grants to progress towards a clinical trial. Three further projects will investigate the potential of innovative new therapies or ways to make existing therapies more effective.
PCRF Chief Executive Maggie Blanks said:

"The charity's sole focus is to generate a deeper knowledge about pancreatic cancer that can underpin the development of new treatments and diagnostic tools that will ultimately save patients' lives. There are no 'quick wins' with this strategy; we always knew that it would be a long haul, which makes it all the more heartening to see some of the earliest projects we funded getting so close to clinical trials."
The new grants bring the charity's spend on research projects to over £7 million, with a further £2 million committed to the world's first national pancreas tissue bank, which launched last year.

The other awards are:
Dr Tanja Crnogorac-Jurcevic, Barts Cancer Institute and Dr Nathalie Massat, Queen Mary University of London
Dr Crnogorac-Jurcevic's potential test to diagnose early stage pancreatic cancer, funded by PCRF, made global headlines in 2015 and is nearly ready to start a clinical trial. The new grant will enable Dr Crnogorac-Jurcevic to further validate urinary biomarkers (potentially incorporating further molecules called miRNAs) and develop a combined 'risk score' for each biomarker in a panel – a step which is crucial for interpreting clinical trial data and without which a trial cannot take place.
Professor John Marshall, Barts Cancer Institute, Queen Mary University of London
Professor Marshall has used previous PCRF funding to study the molecule alpha-v beta-6, which is found at high levels on the surface of 90 per cent of pancreatic cancer cells, but not on healthy cells. He has developed a new drug made from a protein fragment (a peptide) that can find and attach itself to alpha-v beta-6, and has combined it with a potent natural poison to kill the cancer cells and leave healthy cells unharmed. The peptide-drug has proved successful in tests on pancreatic cancer cells and on mice with pancreatic cancer. The new grant will enable Professor Marshall to further test the peptide-drug with different types of pancreatic cancer and answer important questions about how it works, with a view to taking it to clinical trial.
Professors John Callan and Anthony McHale, Ulster University, with Professors Eleanor Stride and Katherine Vallis, University of Oxford and surgeon Mr Mark A Taylor, Belfast Health and Social Care Trust
Oxygen levels in pancreatic tumours are very low and certain cancer treatments, such as radiotherapy, require a good supply of oxygen to be effective. Professor Callan's team uses oxygen- loaded microbubbles, combined with harmless ultrasound, to deliver oxygen and chemotherapy drugs directly to pancreatic tumours. The PCRF grant will enable the team to investigate if the improved tumour oxygen levels will enhance chemotherapy and radiotherapy based treatments of pancreatic cancer with the ultimate aim of enhancing patient survival.
Dr Sarah McClelland, Barts Cancer Institute, Queen Mary University of London
Pancreatic cancer cells display 'chromosomal instability', a defect that involves some of the cells' genetic material – chromosomes – being deleted or rearranged during cell division. This instability makes tumours hard to treat, but the reasons for this are poorly understood. Dr McClelland will investigate and analyse the possible causes of chromosomal instability in pancreatic cancer to see whether efforts to limit this defect before administering chemotherapy will improve patients' response to treatment.
Ends
Further information from:
Jo Kelly, Campus PR, tel 0113 2589880, mob 07980 267756, email jo@campuspr.co.uk
About Pancreatic Cancer Research Fund (PCRF)
Pancreatic Cancer Research Fund is a national charity founded in 2004 to support world-class research that will lead to the development of more effective detection, diagnosis and treatment. It is the only national charity exclusively focused on research into the disease.
In January 2016 Pancreatic Cancer Research Fund launched the world's first national pancreas tissue bank, which will accelerate the progress of research into pancreatic cancer in the UK and internationally. All of PCRF's work is funded by public donations. For more information, visit www.pcrf.org.uk
About pancreatic cancer
Around 9,000 people are diagnosed with pancreatic cancer each year in the UK. It has the worst survival rate of any common cancer - only 3 in every 100 people diagnosed will live for 5 years or more. This survival rate has barely improved in 40 years.
It is a difficult cancer to diagnose because symptoms are often vague (the most common being weight loss, abdominal pain and jaundice) and generally only present when the cancer has already spread to other organs. Surgery to remove the tumour is the only potential curative treatment, but around 9 in 10 patients are diagnosed too late for surgery.
Despite being the UK's 5th biggest cancer killer, pancreatic cancer receives less than 2% of the national funding for research into cancer.