Research from Leeds wins RSPB Conservation Science Award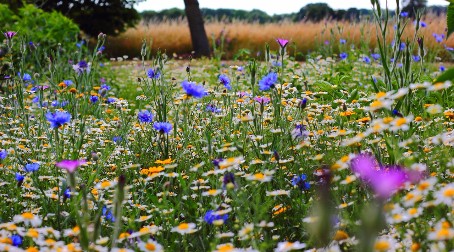 A Nature-published paper linking the loss of wild flowers with pollinator decline has won the 2017 RSPB Award for a scientific paper of high conservation importance.
The paper, titled 'Historical nectar assessment reveals the fall and rise of floral resources in Britain', was recognised by the RSPB as 'likely to have a significant impact on conservation'.
The study, conducted by researchers at the Universities of Leeds and Bristol, produced the first ever Britain-wide assessment of the value of wild flowers as food for pollinators.
Results from the assessment demonstrated that decreasing resources mirror the decline of pollinating insects, providing new evidence to support the link between plant and pollinator decline.
Professor Bill Kunin, Professor of Ecology in the Faculty of Biological Sciences at Leeds and an author on the paper, said: "We have conducted the first ever national-scale survey of floral resources: estimating the total amount of nectar being produced each year in Britain over the past few decades. What we found was surprising: while we confirmed the impression that wildflowers have decreased over the past half century, we also find evidence of a partial recovery in recent years. That may be good news for bees and other wild pollinators."
The RSPB Conservation Science Awards are offered to recognise and celebrate excellence in conservation science.
The RSPB described the winning paper as: "an important paper, as it directly links the fate of plant species and the pollinators which rely on them, and on which we rely for an important ecosystem service."
They said that the study "shows the importance of semi natural habitats, not just to biodiversity conservation, but also to other widespread land-uses dependent on pollination and to food production."
Further information
Information about the award is available on the RSPB awards page.
You can read the paper in full on the Nature website.