Prof Jim Deuchars presented with Royal Society Translation Award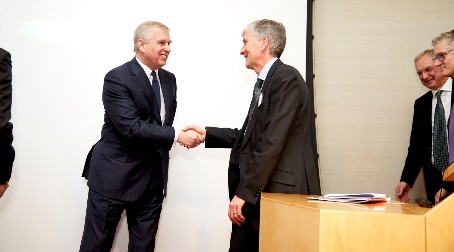 The award was presented by Prince Andrew at the Royal Society on 20th March.
Professor Jim Deuchars was presented with his Royal Society Translation Award by Prince Andrew at the Royal Society on 20th March.
This scheme is for scientists who wish to investigate the potential to commercialise an aspect of their research.
The award, worth up to £50,000, will facilitate development of a transcutaneous vagal nerve stimulator.
Vagus nerve stimulation (VNS) is currently used to treat refractory epilepsy and is being investigated as a potential therapy for a range of conditions, including heart failure, tinnitus, obesity and Alzheimer's disease. However, the invasive nature and expense limits the use of VNS in patient populations and hinders the exploration of the mechanisms involved.
Prof Deuchars is investigating a non-invasive method of VNS which would be a simple and inexpensive alternative to invasive VNS.
Additional information
Details of the method can be found in Clancy JA, et al (2014) Brain Stimul. 2014 Nov-Dec;7(6):871-7. PMID:25164906.
You can view the award criteria on The Royal Society website
Photograph courtesy of the Royal Society.