Sustainable agriculture (impact case study)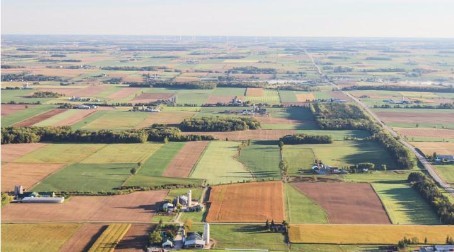 One of the major challenges for this century is the need to sustainably produce sufficient, nutritious food for the increasing global population.
Current farming practices, especially in developed countries, have led to environmental degradation and are not necessarily sustainable. Professor Tim Benton, together with Dr Steve Sait and Professor Bill Kunin, have led research into understanding how to optimally manage farmland for sustainable food production, whilst maintaining biodiversity and planning for resilience in the face of climate change and extreme weather.
They developed a mathematical landscape model that balanced the land management attributes of food production, with the ecological factors for biodiversity, to produce a conceptual framework for sustainable agriculture.
These insights were further strengthened through a comprehensive analysis of different farming systems in the UK (conventional vs organic) to investigate how "sustainability" at a landscape scale is related to conventional ideas of sustainability at the farm/field scale.
This work has received international attention, and has been used to inform policy debates by the UK Government, the World Economic Forum and the United Nations. Professor Benton was the UK Global Food Security Champion from 2011-2016, and is currently the Distinguished Visiting Fellow, Energy Environment and Resources at Chatham House.
Through these roles, Professor Benton provides thought leadership from a food systems perspective to tackle the challenges to food security, its sustainability and resilience. He seeks to influence all components of the food supply chain – from policy makers and governments to farmers and producers, distributors, supermarkets and consumers.