How can virtual reality and motor imagery help in stroke rehabilitation?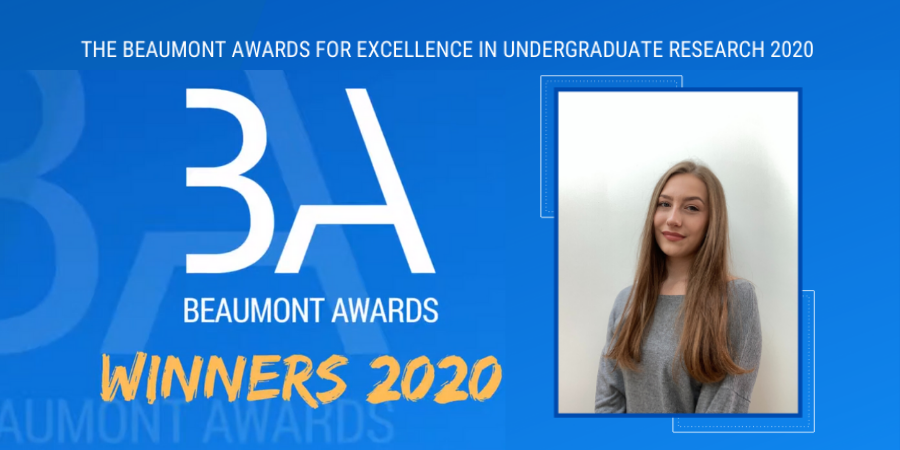 Amy Crompton's undergraduate research project in 'Virtual reality and motor imagery in stroke rehabilitation' has been awarded this year's Beaumont Award 2021.
The University of Leeds Beaumont Award recognises ten outstanding undergraduates research project in the areas of Biological, Environmental and Physical Sciences, Engineering, Medicine and Health that demonstrate the greatest potential impact on society and solve real-world problems.
<iframe width="560" height="315" src="https://www.youtube.com/embed/pjdZZV_u8Ic" frameborder="0" allow="accelerometer; autoplay; encrypted-media; gyroscope; picture-in-picture" allowfullscreen></iframe>
Amy Crompton
BSc Neuroscience student, Amy Crompton has been received the award for her project in 'Virtual reality and motor imagery in stroke rehabilitation'.
"Stroke patients who have a paralysed limb or who are completely paralysed do not respond to current stroke rehabilitative therapies, as they require some residual movement.
In my research project, healthy volunteers imagined the sensation of closing either their left or right hand, as indicated in virtual reality, while we recorded their brain signals using EEG. This trained a computer to determine which hand they were imagining based on the brain signals. Eventually, this will be used to control a robot glove which will close the imagined hand. This will hopefully rewire the brain and help patients regain some motor control.
I chose to study neuroscience because I've always been interested in the brain and why we behave the way we do. I chose Leeds because I immediately felt at home when I came to visit on an open day.
This area of research was completely new to me when I started. I've always been most interested in cognitive neuroscience, so I chose a project in this area, even though it involved techniques I had never used before. I am so glad I did and I believe this experience will be invaluable going forward in my career."
About the Beaumont Awards
The awards scheme offers winning students the chance to further progress their research and careers by introducing them to relevant contacts within industry and opening up potential opportunities to work with world-class organisations. Professor Adam Beaumont, Founder and CEO of aql and sponsor of the Beaumont Awards comments: "Every year I'm amazed at the quality of research that is delivered and submitted to the awards, and this year is no different,"
Now in its third successive year, the awards reflect the University's commitment to research-led education and learning. Leeds is among the top ten universities for research power in the UK and consistently supports its students to make a genuine impact on the world.
Congratulations to all of this year's winners.