Undergraduate students presented with prominent Beaumont Award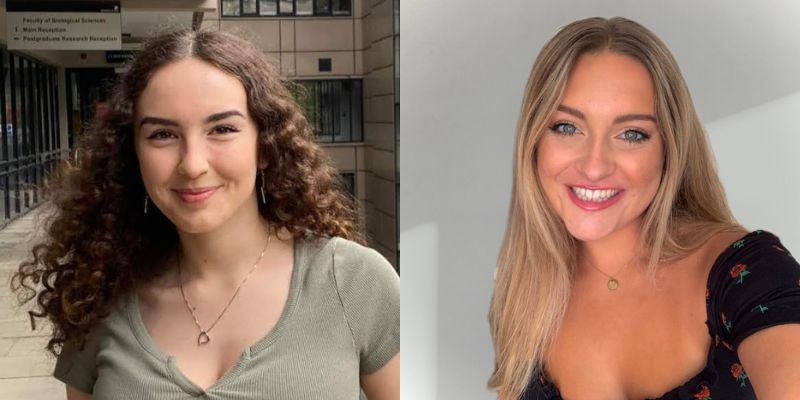 Two BSc students have been awarded the prestigious Beaumont Award.
We are proud to announce that two undergraduate students, Hannah Abdly and Natasha Murray, were amongst the select few students from the University of Leeds to receive the Beaumont Award for their incredible final year research projects.
Hannah Abdly
Hannah's project is titled Development of a multivalent probe for the superselective targeting of glycolipids on cancer cells. Her goal was to develop a probe that would show stronger binding to membranes with a higher expression of a glycolipid known as GM1. GM1 is found on healthy cells but also in higher densities on the membranes of some cancerous cells.
Click here to read more about Natasha's award winning study and time at Leeds.
Natasha Murray
Natasha's project explored continuing and novel threats facing the UK pollinator population. Indeed Natasha highlighted a gap in the research about how sustained high concentrations of pollutants are affecting pollinator biodiversity outside of a controlled environment. Her project investigated whether exposure to high concentrations of an ambient air pollutant (Nitrogen Dioxide, NO2), in London, affected the biodiversity and composition of pollinator communities residing there.
Click here to read more about Natasha's award winning study and time at Leeds.
About the Leeds Beaumont Award
The University of Leeds Beaumont Award recognises research projects in the areas of Biological, Environmental and Physical Sciences, Engineering, Medicine and Health undertaken by undergraduate students from any discipline. This might be a Final Year Project, a research project, or related to an internship pursued at the University.
The awards are inspired by the life and work of Michael Faraday, whose discoveries were crucial in the development of technology innovation.
<iframe width="642" height="361" src="https://www.youtube.com/embed/S7Tt5MvCnK4" title="Beaumont Awards 2022" frameborder="0" allow="accelerometer; autoplay; clipboard-write; encrypted-media; gyroscope; picture-in-picture" allowfullscreen></iframe>