Prestigious Royal Society of Chemistry award for Leeds research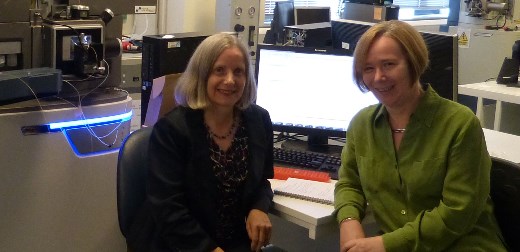 A research team led by Professors Alison Ashcroft and Sheena Radford joins an illustrious list of winners of the Royal Society of Chemistry's Rita and John Cornforth Award.
The team from the Astbury Centre for Structural Molecular Biology, Faculty of Biological Sciences, has won the award for its pioneering research into the structure of particular proteins connected to diseases including Alzheimer's, Parkinson's, and type II diabetes. Professors Ashcroft and Radford look at how these proteins change from something normal to something dangerous and try to find ways to stop these changes taking place, and prevent disease from taking hold.
The Rita and John Cornforth Award enables scientists working in collaborative research teams with both chemistry and the life sciences disciplines to be promoted and rewarded. The winners receive £2000, a medal and a certificate. Rita and John Cornforth were a married couple who collaborated on more than 40 scientific papers. Sir John won the Nobel Prize in 1975.
Professors Ashcroft and Radford said: "This award is a result of the dedication of our postgraduate students and postdoctoral fellows, our colleagues in Leeds, our expert collaborators from both academia and industry worldwide, and financial support from Research Councils, charities and industry. Together, we have been able to make a contribution to our understanding and modulation of disease-related protein assembly mechanisms using a multidisciplinary approach combining cutting-edge biomolecular mass spectrometry methods with a range of other biophysical techniques. As a team we have developed new approaches to unravelling complex biochemical mechanisms in order to deliver fundamental insights into important disease processes".
Dr Robert Parker, Chief Executive of the Royal Society of Chemistry said: "It is always a pleasure to recognise excellence in the chemical sciences and I am pleased to acknowledge the illustrious achievements of our prize and award winners this year.
"Whether they work in research, industry or academia, our winners are the very best in their fields, and they can be very proud to follow in the footsteps of some of the most influential and important scientists around the world.
"In a complex and changing world, chemistry and the chemical sciences are vital in responding to some of humanity's biggest challenges and our prize and award winners are at the forefront of meeting that challenge."
Award winners are evaluated for the originality and impact of their research, as well as the quality of the results which can be shown in publications, patents, or even software. The awards also recognise the importance of teamwork across the chemical sciences, and the abilities of individuals to develop successful collaborations.