Symposium tribute to Professor Steve Baldwin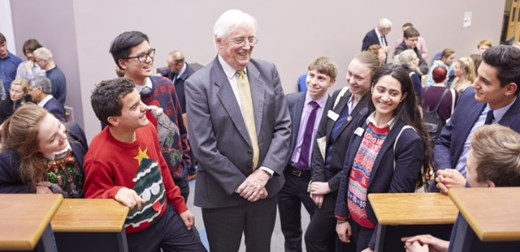 On Wednesday 16th and Thursday 17th December, the Faculty played host to 137 scientists from around the world who gathered to commemorate the life and work of Prof Steve Baldwin.
Above, Prof Sir John Walker, FRS and Nobel Laureate talking with sixth form students.
Many of the attendees had personal connections with Steve as former students and postdocs or collaborators and travelled from as far away as China, India, North and South America. There was also an excellent turnout of local colleagues.
As well as a strong science programme featuring lectures from our own FRS, Prof Sheena Radford and Prof Nieng Yan the rising star of membrane structural biology, a highlight was the public lecture entitled 'Energy in Biology' delivered by Prof Sir John Walker, FRS and Nobel Laureate.
The public lecture, which skilfully blended the latest research from Sir John's lab with a more global perspective on the application of science to address problems such as the development of new antibiotics and renewable energy, was also attended by 6th form students from 5 local schools. These 60 students and their teachers participated in a parallel event organised and delivered by a team of our early career researchers in which they enjoyed a tour of the research facilities and a poster session on membrane related research in Leeds.
Dr Ian Kerr from University of Nottingham, said: 'What a tremendous meeting that was – congratulations to you all for the effort you put into it, and for the really amazing two days of science. Your University should take a bow as well for their hospitality – really top class'.