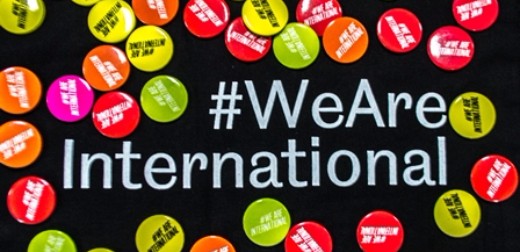 We're incredibly proud to support #WeAreInternational, celebrating our diversity
Begun in 2013, the #WeAreInternational campaign now has the support of more than 100 universities and colleges, the British Council, the NUS and the Home Office. The campaign's guiding principles are:
We are deeply proud of our international university communities, and what we gain from our diverse student and staff population is immeasurable. Scholars from across the continent and the world enhance our academic life, knowledge and our economic growth. They are central to the teaching of students and research in everything from medicine and science to engineering, social sciences and the arts and humanities.
We are committed to ensuring that our universities remain diverse, inclusive communities of international scholarships open to students and staff from across the world.
We will continue to ensure our research knows no geographical boundaries and our students and staff from around the world are able to celebrate their own cultures and friendships.
Our commitment to the UK remaining a welcoming home of global scholarship, which provides a superb education to the most talented people from around the world remains firm.
These principles reflect our 'International Leeds' approach.
Vice-Chancellor Sir Alan Langlands says: "Leeds is an international university in a City that looks outwards; our determination to attract and welcome talent from across the UK, Europe and around the world is undiminished. We must continue to look outwards and take the Leeds message to a wider global audience."
We have staff and students from 146 countries at Leeds and our campus is home to a truly diverse community. This diversity is welcome and celebrated through initiatives such as Link to Leeds, our Global Community intercultural activities, the volunteer Intercultural Ambassadors, and the World Unite Festival.
Please help to support the #WeAreInternational campaign.