FBS Partner with University of Texas to fight cancer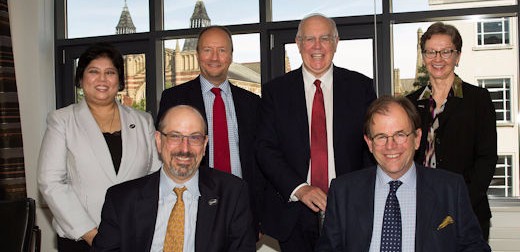 The University of Leeds welcomed a delegation from MD Anderson Cancer Center from the University of Texas on 23rd August.
As part of the visit the Faculty and the visiting delegation signed a memorandum of understanding. This formal link with the largest cancer hospital in the world will provide the opportunity to forge joint activities across the academic spectrum including student exchange, joint meetings between junior faculty involved in cancer research and wider collaborative research projects. This will provide a merging of skills and facilities to advance the fight against cancer.
MD Anderson Cancer Centre, which is based in Houston, Texas, has one of the most developed and largest cancer prevention programmes in the world. They specialise in patient care, research, prevention and education. They have a large workforce of over 19,000 employees all working in this area. They also boast over 1,600 full time faculty scholars who lead the largest number of NCI-funded grant programs and clinical trials in the US. They also have over 6,500 trainees who take part in educational programmes within the centre with a large amount focused on researching, understanding and preventing cancer.
A collaboration with an organisation with this level of expertise and size provides a huge opportunity for collaboration and partnership for Leeds. Professor John Ladbury, Dean of the Faculty, who played a vital role in bringing the two institutions together said that "this is a huge day for cancer research at the University of Leeds, to formalise links with one of the leading research centres in the world will enable us to bring our complementary strengths together across student education and front line research to focus on the fight against this disease".