New PhDs to train the next generation of bio-scientists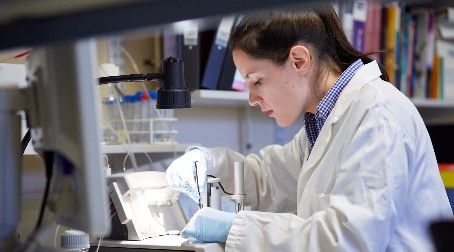 MedImmune and a consortium of Leeds, Cambridge, Manchester and Sheffield universities has secured a Collaborative Training Partnership, structured as 12 PhD studentships.
The studentships are designed to invest in the training of the next generation of scientists for the wider bioeconomy and research base, providing access to facilities and expertise unavailable in an academic setting alone.
Working collaboratively, MedImmune and the universities will co-locate the four-year-long studentships to advance discovery and development in Industrial Biotechnology and Bioenergy.

Under the programme, students will benefit from:
Working with both leading industry scientists and academic investigators across diverse departments;
Undertaking their research in state-of-the-art laboratories at the four partner universities and MedImmune's Cambridge facility;
Working as a cohort, with an opportunity to interact with each other as well as those involved in various parts of the drug discovery and development process;
In addition, the Collaborative Training Partnership (CTP) will provide exposure to upstream and downstream bioprocessing, cell sciences, formulation and analytical science, drug delivery, in silico modelling and automation.
The CTP will build on already established research partnerships at MedImmune to support product and technology development. The Centre for Process Innovation in Darlington will join the consortium to add expertise in the development of next generation products and processes and advise on future bioprocessing trends and capabilities.
The first round of studentships will commence in October 2017, and additional intakes will follow in October 2018 and 2019. Further information and application details for the first studentship will be made available on 1stDecember on FindAPhD and the University of Leeds' website.
The three successful PhD students at Leeds will work in biopharmaceutical development, using state-of-the-art biophysical equipment within the Astbury Centre for Structural Molecular Biology using mass spectroscopy and single molecule techniques.
Working with investigators in the biological sciences and engineering, the students will study how proteins respond to flow pressures and how this causes aggregation. They will aim to develop ways to improve methods for the production of proteins as drugs of impact across the biopharmaceutical industry.
Professor Sheena Radford, FMedSci, FRS, Director of the Astbury Centre, welcomed the BBSRC funding and said Leeds was pleased to develop further its links with MedImmune, and new relationships with researchers in Cambridge, Manchester and Sheffield.
She said: "Many new drugs coming on to the market are protein-based, so it's vital scientists and engineers collaborate across universities to understand how proteins aggregate and how and why flow processes in the production pipeline cause failure to produce large quantities of protein drugs needed for clinical use.
"By doing so we will evolve better proteins, improve the drug production process and ultimately avoid the 11th hour fails which are so frustrating in this industry".
"This investment by the BBSRC is a significant commitment and is well timed given the University's own £17m investment in the leading-edge technology required to carry it out."
Paul Varley, Vice President of Science and Collaborations in Biopharmaceutical Development at MedImmune said: "Collaborating to create new avenues for the exchange of innovative ideas is a critical part of drug discovery and development.
"We're honoured that the BBSRC has afforded us this opportunity to offer a world-class training environment for the next generation of biopharmaceutical scientists, extend core capabilities in bioprocessing and analysis, and embrace new thinking, allowing science to thrive and ultimately deliver life-changing medicines to patients."