Leeds now among UK's top five universities targeted by employers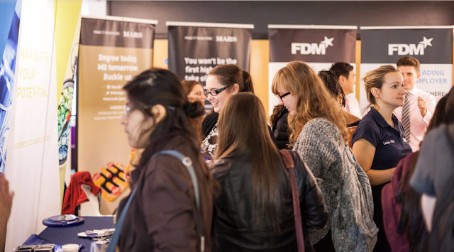 Students at the University of Leeds are now the fifth most targeted in the UK by leading employers.
The latest study conducted by High Fliers Research highlights graduate vacancies and starting salaries at the country's 100 leading employers, including Apple, the BBC, the Bank of England, and Marks & Spencer.
The rankings are based on the numbers of top graduate recruiters at campus fairs, recruitment presentations or other local university promotions during 2016-2017.
The research report shows that employers are planning to increase their graduate recruitment by 4.3% in 2017, the fifth consecutive year that graduate opportunities have increased.
High Fliers also reports that 90% of the UK's top graduate employers are offering paid work experience programmes for students and recent graduates during 2016/17.
However, even as graduate opportunities increase, competition for them remains fierce. Employers reported that they have received 9% more graduate job applications so far this year compared to last year, and they stress the importance of work experience for applicants.
Jane Campbell, Head of Student Careers at Leeds, said: "This is fantastic news, illustrating that students at the University of Leeds have a wealth of opportunities when it comes to finding a job and work experience with Britain's leading employers.
"The proportion of our graduates achieving high quality job outcomes is among the best in the UK, at more than 81 per cent.
"Our students have access to a tremendous range of opportunities, from study abroad – we send more students abroad than almost any other university in the UK – through to work placements and volunteering, and our award-winning work with student business start-ups.
"Employers are engaged in every aspect of our work with students, from their role in advising on curricula to offering placements and jobs."
The report confirmed that that top 10 universities most targeted by Britain's top graduate employers in 2015-2016 were: Warwick, Manchester, Bristol, Cambridge, Leeds, Birmingham, Nottingham, Oxford, Durham and Bath. Leeds moved up five places compared to last year's rankings.
Jo Johnson, Universities Minister, said: "The fact that our country's top employers are offering more graduate jobs is a clear sign that the UK's higher education sector continues to be an excellent option for people looking to secure a rewarding career."