Rising Researcher: Ruth Norman wins Kick-Starter Competition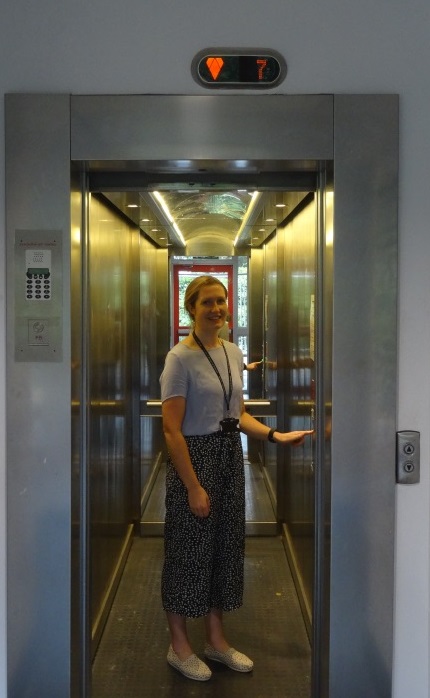 Ruth Norman wins Kick-Starter Competition
Dr Ruth Norman, one of the group's early career researchers, has won a £1000 grant for her ability to sell her idea for a research project in 20 seconds - the time it takes to travel between floors in an elevator.
Ruth was attending the international Europhysiology 2018 conference in London when she won her prize. Early career researchers had the opportunity to visit a photo booth and pitch a proposal for their project. This 'Elevator Pitch' was designed to simulate the experience of being in an elevator with those who allocate the funding at your Research Institute. You have their undivided attention for 20 seconds and have to pitch your research idea, to see if you can convince them to help kick-start your project.
In this short space of time, Ruth pitched her idea for studying the structural changes in the protein network which surround caveolae, by stretching cardiac myocytes to mimic heart failure.
Ruth describes cardiac myocytes as "the contractile cell of the heart" with caveolae being "tiny blebs in the cell membrane supported by a protein network (the caveolae coat complex) which is important for many functions within the cell." She explained how research into the caveolae coat complex is vital in understanding how the heart changes in heart failure.
All entries for the 'Elevator Pitch' were carefully reviewed by a panel of Editor-in-Chiefs from both the Physiological Society and American Physiological Society journals. It's a testament to the clarity of Ruth's expression that she was awarded the prize.
Ruth is using her award to look at the microscopic structure of the caveolar coat complex, which she hopes will lead to lead to new therapeutic interventions in heart failure.
We wish Ruth all the best as she continues her research here at The University of Leeds.
---
Miriam Hurley
University of Leeds