Prize Winning Postgraduates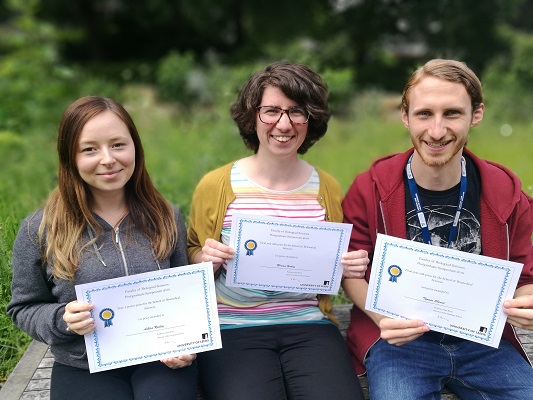 Prize Winning Postgraduates
Three of the Cardiovascular Group's PhD students won coveted prizes at the Faculty's annual Postgraduate Symposium. The symposium offers all students the opportunity to showcase their research in front of the entire faculty.
Our winning students presented work using the Nobel Prize-winning technique of super-resolution microscopy which allows structures 1000 times smaller than the width of a human hair to be seen.
Second year student Ashlea Rowley was awarded first prize for her poster entitled 'Making Molecules Blink'. Ashlea is engineering novel reagents for use in DNA PAINT, a super-resolution method. Ashlea said 'This is the first prize I've won and it wouldn't have been possible without the excellent support and guidance from the Cardiovascular Group'. Ashlea is supervised by Professor John Colyer.
Final year students Miriam Hurley and Tom Sheard won 1st and 3rd prize respectively for their 15 minute talks.
Miriam spoke about 'Remodelling of the ryanodine receptor clustering patterns in acute right ventricular heart failure'. Like Ashlea, Miriam works with DNA-PAINT. Her ground-breaking approach describes the re-arrangement of single proteins within a diseased heart cell and relates this to changes in cell function. Miriam commented 'there is no treatment for right ventricular heart failure. To change this, we need to understand how the heart's function is altered in failure and the relationship this has with the heart's fine cellular structure'.
Tom's talk was about 'Visualising calcium-signalling nanodomain remodelling in right ventricular failure with X10 expansion microscopy'. The method of expansion microscopy physically expands cells up to 10 times in size, which gives very high imaging resolution without the need for a specialised microscope. Tom maps pathological changes in the geometry and phosphorylation state of calcium channel clusters in failing heart cells. 'I'm delighted to have been acknowledged for this prize. The Post-Grad symposium is a great platform at which to present and get valuable feedback, plus it offers the chance to prepare for upcoming talks at international conferences' he said.
Both Miriam and Tom are supervised by Dr Izzy Jayasinghe.
These prizes reflect the high quality of research and the excellent communication skills of 3 talented PhD students. By improving our ability to visualise very small structures in cells, their work will have far-reaching benefits for cardiovascular research and beyond.
---
Sarah Calaghan
University of Leeds