Our people: Amelia Lesiuk, Lead Technician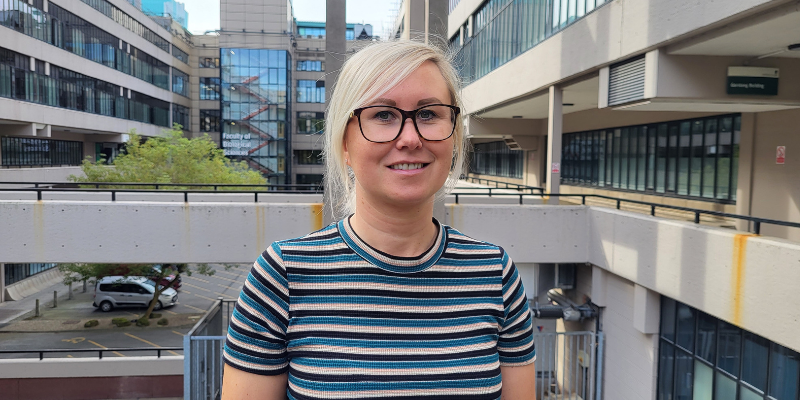 Our researchers are helping to overcome global challenges and inspire the next generation of biological scientists. Meet some of the people who are making a difference.
In secondary school, I was passionate about physics and chemistry and thought about creating and testing new materials.
I joined the University as a Laboratory Assistant in the Faculty of Biological Sciences in 2008. I was lucky enough to work with some incredibly inspiring academic colleagues at the start of my technician career: Prof Stephen Baldwin, Dr Vincent Postis and Dr Gerard Huysmans.
I was a fresh graduate and hadn't had much laboratory experience in Protein Biology, but I was genuinely fascinated and tried to learn as much as I could from them.
I became a Research Technician in 2010, a Senior Research Technician in Protein Purification in 2016 and from there, I became the Laboratory Area Coordinator in 2018.
In this role, I worked with approximately fifty Principal Investigators and their research groups and was responsible for the day-to-day management of the research laboratories located across four buildings and two Schools in the Faculty. At that time, I started to manage the research technicians and support academics in the recruitment and staff review processes for technicians. In October 2022, I successfully applied to the Lead Technician position.
Our team provides practical support, advice, and safety guidance to researchers on experimental techniques and technical issues. We contribute to developing and implementing local policies and processes, identifying enhancements, such as new techniques or equipment, and improving existing procedures or cost-saving measures.
We also support the lab relocations for the research groups and contribute to the refurbishment and development projects within the School of Molecular and Cellular Biology and across the Faculty.
I am inspired by my technical work colleagues and how we are helping and supporting each other, like through the Technician Commitment Working Group, an initiative which pledges to support technicians in four key areas: visibility, recognition, career development and sustainability.
It really feels like a warm and friendly community.