Studying with us
Support for international researchers
Support for international researchers
Support for international research students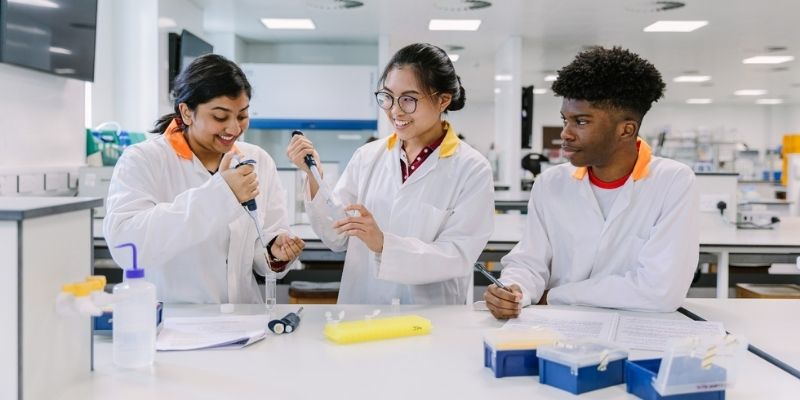 Innovation, choice and quality
Here at Leeds, we develop professional research graduates with sought after research expertise. This means that you will receive high quality research laboratory training, using state-of-the art instruments at leading edge facilities, such as the Asbury Centre, the Global Food and Environment Institute and the Institute of Medical and Biological Engineering.
£17 million
Astbury Centre Laboratory Investment
For world-leading biological research
Professor Ronaldo Ichiyama
Staff | Director of the Graduate School
"Working with world-leading scientists in all areas of Biological Sciences, we strive to provide a diverse and enriching environment where postgraduate researchers from all over the globe are valued and supported to achieve their goals and ambitions"
Programme structure
Year 1
In the first year, you will follow a bespoke training plan agreed between yourself and the Supervisory Team right at the start of your University of Leeds journey. This training plan will have a combination of personal development skills training, research skills training and our latest understanding in relevant research fields, brought from our taught MSc (level 5) modules across semesters 1 and 2
Year 2 - 3
In year two, you will use the data and findings from your experiments to create a draft paper and thesis plan for your project and continue your personal development training as set out in your plan. Throughout the year you will meet regularly with your supervisory team and present your work at an Annual Progress Review.
Continued professional development will include development of teaching skills, conference presentations, job interviewing skills, building your CV, etc.
In year three, you'll continue your training and research up to your thesis submission, with regular supervisory meetings during the year to the completion of your PhD.
PhD
Group leader
School of Molecular and Cellular Biology
Dr Qian Wu
Staff | University academic fellow
"My research focuses on investigating the mechanism of DNA repair. I have personally experienced the excitement & challenges for international PhD students since I was one of them. My lab provides a stimulating and supportive environment for intern"
What we can offer you
Research facilities to work in which cover the broad research themes of all biological sciences from molecular and cellular, to physiological and whole ecological systems covering research in Resilient Biosystems, Healthy Living, Biotechnology and Discovery Bioscience.
Bespoke tailored academic, personal and professional development during your programme in close collaboration with experts in their field.
A rich multi-disciplinary environment giving you the opportunity to develop a wealth of new skills and knowledge.
Access to a wide range of world leading experts and opportunities to get feedback, insight and help from top research scientists.
High impact research projects to ensure you have a wide range of career opportunities to choose from.
A diverse, supportive and inclusive research community in which to work and grow.
A clear vision of how you can develop and excel to be an outstanding researcher in your field.
A vibrant, diverse research community
The Faculty of Biological Sciences is a vibrant, diverse and collaborative research community, spanning all areas of biological sciences from landscapes to molecules and our research delivers significant benefits to society and industry. Our PhD students are innovative, driven and are recognised for their talents. Each have their own story, many travelling across the globe to Leeds to solve problems and change lives. Here you'll be part of a prestigious, research-intensive Russell Group university ranked in the top twenty universities in the UK by the Guardian University Guide and the top twenty five in the UK by the Times and Sunday Times Good University Guide. Our quality shines brightly, with our researchers working at the cutting edge of their disciplines receiving prestigious national awards. We want you to be part of our community, and add to world-leading expertise.
BBSRC
Whiterose doctoral training programme
Plant signalling
Dr Tom Bennet
Staff | Associate Professor
"I specialise in plant hormonal signalling and development. I currently work with 3 international PhD students studying plant growth responses to hormonal stimuli. Our exceptional confocal microscopy facilities allow us to connect developmental even"
Contact details
For further information please contact the Graduate School Office
e: fbsgrad@leeds.ac.uk, t: +44 (0)113 343 8221.
Links to useful sites
International Office - Provides welcome and orientation support and immigration advice and the opportunity to be part of a Global Community.
Doctoral College - Provides support and enhances opportunities available to you as a PhD student.
Feeling at Home in Leeds - The University offers face to face support and online tools to help students feel at home and make the most of University life.