Studying with us
BSc or Integrated Masters?
BSc or Integrated Masters?
BSc or Integrated Masters?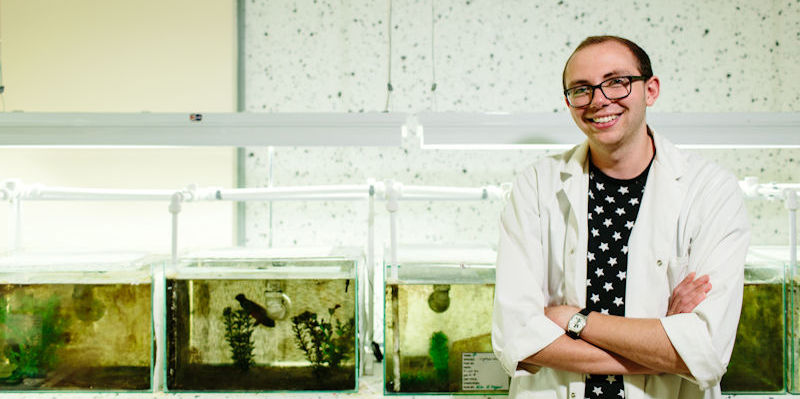 If you're unsure of the difference, or you're still considering which the best option for you is, here's our guide to choosing between a BSc and an Integrated Masters.
What is a BSc degree?
If you choose to take a BSc degree you'll study for three years and receive a Bachelor of Science qualification on graduation.
Why choose a BSc degree?
The benefits of studying a Bachelor of Science (BSc) degree include:
Excellent scientific education: You'll become part of a community of bioscientists who compete with the best institutions worldwide.
Research-based teaching: You'll be taught by internationally recognised academics and your learning will be directly influenced by their research.
Excellent career prospects: Development of transferable skills – highly valued by employers – will be a large focus throughout your course.
What is an integrated Masters degree?
An integrated Masters degree combines undergraduate and postgraduate study. Choosing this option means you'll graduate with a dual qualification, which is an integrated degree of Master of Biology and Bachelor of Science (MBiol, BSc) or a Master of Science and Bachelor of Science (MSci, BSc).
Why choose an integrated Masters?
There are many benefits associated with integrated Masters study:
Professional development: If you're interested in becoming a professional scientist, this gives you an excellent grounding for a PhD or scientific research career in industry.
Employability: Masters-level degrees can help you stand out in the graduate job market; many employers in the science sector specifically look for candidates with a Masters-level degree, so you'll have more options open to you.
Advanced research opportunities: You'll carry out an extended, practical research project on an original topic related to your chosen subject area.
Expert supervision: You'll become part of a team of internationally recognised researchers, working in a thriving – and often interdisciplinary – research environment.
Valuable skills training: Further development of fundamental skills in research planning, design and execution of experiments, and effective communication will be key features of your course.
Advanced accreditation: Our MBiol courses have been given advanced accreditation by the Royal Society of Biology.
Access to student loans: Your Masters-level study will be charged at the same rate as your undergraduate study and is an extension of your Bachelors student loan, meaning you don't have to self-fund or apply for a separate loan.
What are my options?
Most of our courses offer you an integrated Masters option. You'll find plenty of information on the Masters-level course content on our course pages.
If you're not yet sure whether the BSc or MBiol/MSci is right for you, don't worry – you can change between courses at the end of your second year when you've had more experience of advanced bioscience (provided you meet the transfer criteria).
Transfer or progression onto the MBiol/MSci currently requires a minimum average mark of 65% at the end of year two.
A confirmation point at the end of year three will normally require a minimum project module mark of 65% and an average mark of 65% for progression to year four.
If you decided the integrated Masters isn't for you, you'll be able to transfer onto the BSc at any time and finish at BSc level.
Entry Requirements
Entry requirements for the integrated Masters courses are normally higher than for our BSc courses.
All courses require AAA at A-level (or equivalent), usually in two science or science-related subjects, although requirements may vary slightly between subject areas.
See individual course pages for more details and alternative qualifications.