Studying with us
Flexible degrees
Flexible degrees
Flexible degrees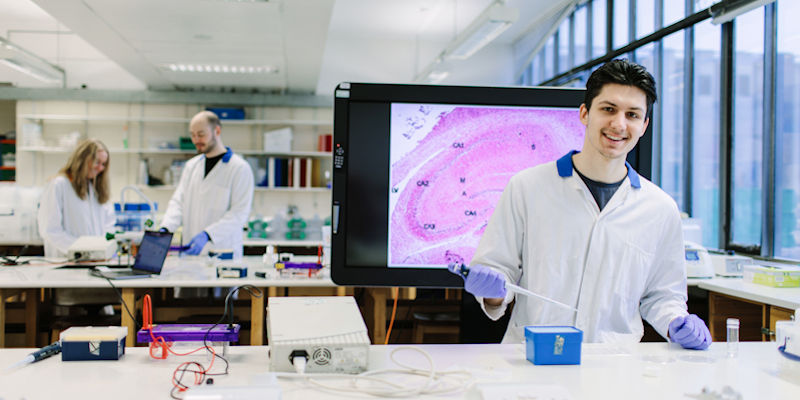 ​​​​​​
We know that choosing the right degree is not a straightforward process, as you need to learn about the difference between degree courses, the associated career opportunities and the extent to which you might specialise during your degree.
Broad-based or specialist degrees
If you are undecided about a specific course to study, then our broad-based degree courses are designed to provide you with a broad foundation as a scientist. Year 1 compulsory modules offer a solid scientific foundation, introducing you to practical lab techniques and theoretical learning. After Year 2 you will be offered the opportunity to choose from a wide range of modules allowing you to tailor your degree to your area of interest. Alternatively, we offer a range of specialist degrees that focus on a specific scientific area. For example:
<iframe width="685" height="385" src="https://www.youtube.com/embed/rdl_oMEkmRs" title="YouTube video player" frameborder="0" allow="accelerometer; autoplay; clipboard-write; encrypted-media; gyroscope; picture-in-picture" allowfullscreen></iframe>
Transferring degree courses
Our degrees are structured so that most courses share the same set of compulsory modules in the first year. A key benefit of having a common first year is that there are opportunities to transfer onto degree courses within the same school at the end of Year 1. Additional degree courses may be available depending on your academic background. All degree transfers must be discussed with your personal tutor or programme leader.
Wide range of optional modules
You are offered a wide range of optional modules that allow you to tailor your degree to your interests. After your broad-based first year, you will be able to select modules that align with your specific interests or choose to keep a broad selection of modules. Depending on your degree course this may also include: practical lab options, field course options, discovery modules, LEED Sport modules and modules in professional career and development skills.
Enhanced degrees
Unsure if you would like to do an Integrated Masters (MBiol) programme, a study abroad year or industrial placement year? You don't have to decide before you apply. You can choose whether to further enhance your degree by swapping onto an Integrated Masters (MBiol) programme, in addition to undertaking a study abroad year, industrial placement or combined study and work abroad in Year 2.
Research Projects
For your final year research project, you may have the flexibility to choose between a literature-based or practical lab-based project, depending on your specific degree course and personal interests. This allows you to tailor your final year project to a style and technique of learning that is best suited to you and your future career goals. You will need to discuss your final year project options with your project supervisor.