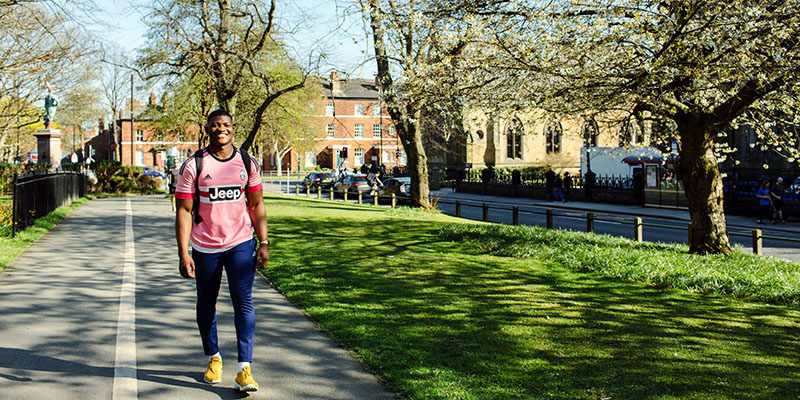 Applicant days
Update: As we're currently unable to host on-campus events, we're busy planning 'virtual' applicant visit days. These events will help you to experince our campus, get your questions answered and help you to make the right decision. We will be contacting suitable applicants and releasing more information about how you can attend our virtual applicant days in the coming weeks.
If you're an applicant or offer holder please visit our coronavirus information FAQs tailored to you.
As your choice of university is very important and we want you to have all the information you need to help you make the right decision, we invite suitable applicants to attend an applicant day, which we encourage you to attend.
Applicant days are more in-depth than our general University open day. You'll be able to:
take part in activities
view our facilities
find out more about your course
chat to current students and academic staff.
The day will give you the chance to discuss your application, check your course is right for you and your career plans, and have your questions answered.
Open days
Following government guidance, our undergraduate open days will not take place on campus as planned.
Our live events may have finished but our autumn Virtual Open Days aren't over just yet.
The Virtual Open Days portal is available for you to access recordings of our talks at a time to suit you. It's not too late to discover Leeds from home.
Visit University of Leeds Virtual Open Days to watch a wide selection of on demand talks, ranging from subject sessions to university and student life. Hear directly from our academic staff, admissions team and current students. Tailor your experience based on the subjects and activities you're interested in; explore our campus and learn about life in our vibrant city.
Campus tours
Campus tours are not taking place at the moment but we're planning the safest way to re-introduce them.
However, ordinarily, we offer tours most Wednesdays during term time, with more frequent tours available during peak times. Find out more.
The student-led tours of the campus will feature the following major facilities:
Leeds University Students' Union
libraries
the Edge Sports Centre
one of our halls of residence.
Depending on when you visit, you may also be able to visit schools within the Faculty, but you should contact the school in advance to avoid disappointment.
Please be aware that during term time departments are not always able to accommodate visitors due to teaching commitments.
For any queries about campus tours please email campusvisits@leeds.ac.uk or phone 0113 343 6792.
UCAS fairs
Due to the current situation with the coronavirus (COVID-19), we will only be attending UCAS fairs virtually.
UCAS fairs are a great opportunity to have your questions answered and pick up a University prospectus.
Our Education Engagement team attend many local and national HE fairs and conventions. These events provide Year 12 students with an excellent opportunity to find out more about the opportunities at the University of Leeds and have any questions they may have answered in person.
Overseas visits
Due to the current situation with the coronavirus (COVID-19), we will only be attending overseas fairs and events virtually. Events for 2021 will be confirmed in due course.
The University's International Office will also attend a number of virtual events. You can find details on the University of Leeds International Office website.
These visits include attending exhibitions or conducting interviews at our overseas representatives' offices.
Our staff are able to give you advice on anything, from studying at the University of Leeds, choosing the right course for your future career and guidance on how to apply.
Our alumni also often attend such events, so you can find out more from them about their experiences of studying with us.
Upcoming visits in your country
Academic staff and other representatives from the University of Leeds International Office travel to countries such as China, India, Nigeria, Malaysia, among others, to meet with students interested in studying in the UK. However, in light of the current situation with the coronavirus (COVID-19), we have significantly reduced our attendance at face-to-face fairs and events. Take a look at our upcoming visits to find out if we are attending an event near you.
Contact a student
If you're thinking of applying to or are an offer holder of the University of Leeds and would like to hear about other students' experiences, you can speak with one of the Link to Leeds Ambassadors. They will be able to answer questions about life as a student at the University and what it is like to live in Leeds.