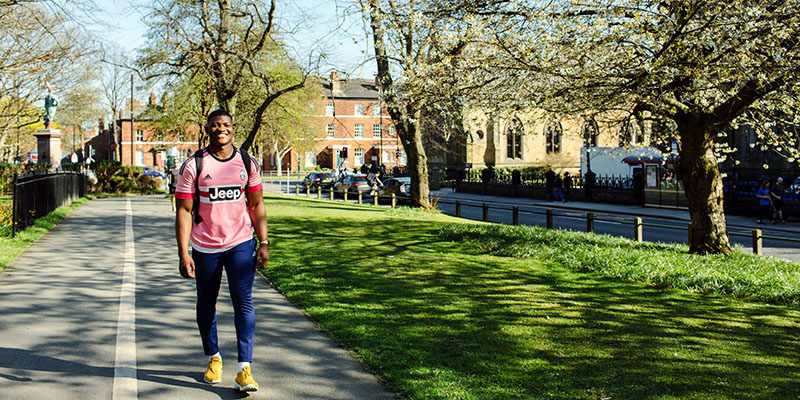 Offer Holder Events
Choosing the right university is very important, that's why we want you to have all the information you need to make the right decision. We invite offer holders to attend our events, which we encourage you to attend and find out as much as possible before making your firm and insurance decision.
If you currently hold an offer on one of our programmes, you are eligible to attend our offer holder events. To find out more about these opportunities and arrangements, please visit the page of the school where you hold the offer:
If you're an applicant or offer holder please visit our coronavirus information FAQs tailored to you.
Open days
Visit our Open Days webpage to find out when we'll be hosting our next event, bookings for our upcoming events are now open.
We usually run a series of live talks where you can ask questions to our academic staff, admissions teams and current students.
Campus tours
We're pleased that we can once again offer student-led tours of our beautiful campus.
Campus tours last approximately one hour and follow the latest government guidance on safety and social distancing. Tours take place entirely outside with no entry inside buildings. Find out more and book a campus tour.
If you're an international offer holder and would like a bespoke campus tour led by an international student, email internationalcampustours@leeds.ac.uk for more information.
For any queries about campus tours please email campusvisits@leeds.ac.uk.
Self Guided Campus Tour
We are delighted to offer you the opportunity to explore the campus yourself, with your very own self-guided tour.
Should you be unable to visit our campus in person or attend a student-led expedition, this is an excellent tool for discovering all the University of Leeds has to offer.
To begin, simply follow the link: Self Guided Campus Tour
UCAS fairs
Due to the current situation with the coronavirus (COVID-19), we will only be attending UCAS fairs virtually.
UCAS fairs are a great opportunity to have your questions answered and pick up a University prospectus.
Our Education Engagement team attend many local and national HE fairs and conventions. These events provide Year 12 students with an excellent opportunity to find out more about the opportunities at the University of Leeds and have any questions they may have answered in person.
Overseas visits
Due to the current situation with the coronavirus (COVID-19), we will only be attending overseas fairs and events virtually.
The University's International Office will also attend a number of virtual events. You can find details on the University of Leeds International Office website.
These visits include attending exhibitions or conducting interviews at our overseas representatives' offices.
Our staff are able to give you advice on anything, from studying at the University of Leeds, choosing the right course for your future career and guidance on how to apply.
Our alumni also often attend such events, so you can find out more from them about their experiences of studying with us.
Upcoming visits in your country
Academic staff and other representatives from the University of Leeds International Office travel to countries such as China, India, Nigeria, Malaysia, among others, to meet with students interested in studying in the UK. However, in light of the current situation with the coronavirus (COVID-19), we have significantly reduced our attendance at face-to-face fairs and events. Take a look at our upcoming visits to find out if we are attending an event near you.
Contact a student
If you're thinking of applying to or are an offer holder of the University of Leeds and would like to hear about other students' experiences, you can speak with one of the Link to Leeds Ambassadors. They will be able to answer questions about life as a student at the University and what it is like to live in Leeds.