Undergraduate Offer Holder Hub
Welcome to Leeds
Going to university is an amazing experience. We're really glad you've applied to study with us and we hope you select the University of Leeds as your firm choice.
Find out more about studying in the Faculty of Biological Sciences by searching below. If you have any questions or want to discuss your offer, you can get in touch with our admissions team.
<iframe width="560" height="315" src="https://www.youtube.com/embed/2dUgz9PVR9w" title="YouTube video player" frameborder="0" allow="accelerometer; autoplay; clipboard-write; encrypted-media; gyroscope; picture-in-picture" allowfullscreen></iframe>
Next steps for offer holders
Visit us and book on to our campus tour or take our virtual 360 campus tour from home.
More

on Campus tours
We offer a range of prestigious scholarships for UK and international students.
More

on Scholarships
Choosing your new home
University accommodation is guaranteed for your first year.
Living in our University accommodation is a great introduction to student life, and a fantastic way to make new friends. Most of our accommodation is off campus, close to the city centre or in the popular student areas of Headingley or Hyde Park – within walking distance or on frequent bus routes to the University.
Book your place for one of our Accommodation Live Events through our Virtual Viewing Hub.
More

on Choosing your new home
Preparing for your future
Make the most of the opportunities at Leeds, have an amazing experience, and give yourself the skills and confidence to stand out from the crowd.
Exceptional student experience
By joining Leeds you'll be part of a prestigious, research-intensive Russell Group university, where you'll gain skills that will be invaluable to you, personally and professionally. You'll get the chance to take part in research, tailor your experience and take advantage of life-changing opportunities. You'll benefit from some of the best university facilities on offer and you'll be supported every step of the way. All on one campus, and in the heart of a thriving, friendly and multi-cultural city.
Hear from our students
Discover more about student life at Leeds by hearing from some of our current students who share their stories.
More

on 63387b2980e01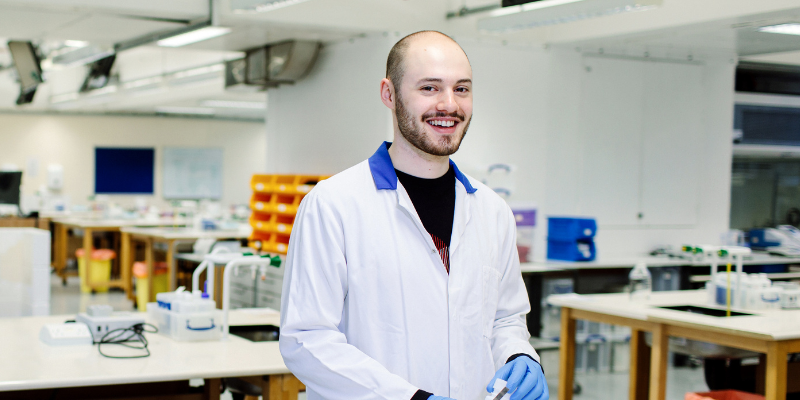 Adam is studying MBiol Biological Sciences with an industrial placement. During his degree, he's completed a year in industry at Reckitt Benckiser and attended two summer school programmes in one in Hong Kong and another in South Korea.
More

on Adam Wilson, MBiol Biological Science
We're here for you
You'll benefit from a wide range of support services to help you feel safe and at home from day one.
Keep in touch
If you have any questions and/or require any further information please contact our admissions team by email: fbsadmissions@leeds.ac.uk
We look forward to welcoming you in September 2022.
---
We know that many people are understandably anxious about the current coronavirus outbreak, and we are taking further measures to address your concerns, to protect health and wellbeing, and to ensure that learning can continue. If you're an undergraduate applicant or offer holder please visit our coronavirus information FAQs tailored to you.