Sport and Exercise Science research themes
Biomechanics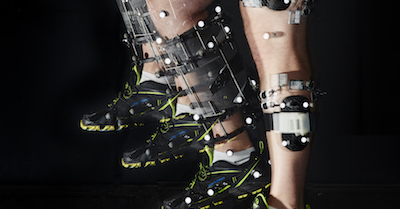 Research in exercise and sports biomechanics focuses on the biomechanical function of the lower limb and spine. Performance is governed by the capacity of the musculoskeletal system to control, absorb and utilise the reaction forces associated with ground contact.
By integrating information from motion analysis, muscle activity and force measurements we can determine a mechanistic pathway for increased performance and reduced injury occurrence. Specific areas of interest include the biomechanical aetiology of overuse injury in physical activity, sport and exercise, the mechanical adaptation to locomotion under various external conditions or novel environments, the influence of prosthetics on gait. We use and test a range of techniques to support this research, including motion capture, in-shoe pressure measurements, and smart technology to provide biofeedback for prosthetics.
Animal models function as an important tool for answering fundamental questions related to the physiology and biomechanics of locomotion. They can provide insights into how evolution has shaped musculoskeletal design across different taxa, while also allowing us to answer specific questions related to different forms of locomotion such as swimming and flight. We work with a wide range of model organisms, including insects, molluscs, and birds, and use an integrative approach to reveal the underlying cellular, physiological and biomechanical determinants of physical performance. Specific areas of interests include the kinematics and aerodynamics of animal flight, the mechanical function of muscles during locomotion, and the energetics of locomotion.
Our research is underpinned by a range of state-of-the-art techniques, including high-speed imaging, three-dimensional kinematic analysis, fine wire EMG, open and close respirometry, and time-resolved microtomography. The output from this research also provides inspiration to engineers interested in creating bio-inspired locomotor systems.
View a list of academics within Biomechanics
View a list of postdoctoral researchers within Biomechanics
View a list of PhD students within Biomechanics
Name

Area of expertise

Dr Graham Askew
Associate Professor in Biomechanics

Biomechanics; animal locomotion; energetics; muscle physiology; animal flight

Dr Greg Tierney
University Academic Fellow in Biomechanics

Sports-related concussion; traumatic brain injury; injury biomechanics; computational biomechanics; wearable technologies; sports medicine; medical device design

Dr Simon Walker
University Academic Fellow in Biomechanics
Biomechanics; high-speed imaging; photogrammetry; animal locomotion; animal flight; microtomography; aerodynamics; muscle physiology