Advanced Training Programme in Biological Sciences
Integrative Structural Biology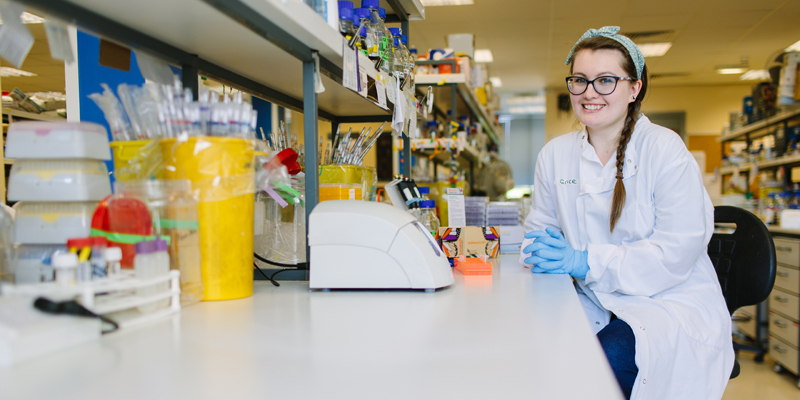 Monday 27 – Friday 31 July 2020
Overview
This course will provide an introduction to methods of protein production and analysis, including state-of-the-art structural biology methods. Attendees will learn, across a mix of lectures and practical workshops, how to make and isolate proteins and macromolecular complexes, perform analysis to look at protein interactions, and study their structure using X-ray crystallography, nuclear magnetic resonance (NMR) and electron microscopy.
Practical content
Methods of protein production and purification- students will learn about the different approaches available, and receive hands on training from protein production experts. The practical element will purify an unknown protein on a gravity flow His column, perform a gel analysis to identify which protein has been purified, calculate the protein concentration.
Introduction to mass spectrometry as a technique to analyse protein mass and interactions, including opportunities to collect and analyse your own data. This practical will involve performing a protein ID by in-gel digestion, data collection by liquid chromatography mass spectrometry, and data processing.
Experience with methods to analyse protein-protein interactions.
Introduction to methods in structure determination of proteins by X-ray crystallography.
Introduction to studying protein dynamics by NMR.
Experience in electron microscopy- participants will gain hands-on experience preparing and imaging samples in an electron microscope, as well as image processing.
A demonstration of state-of-the-art cryo-electron microscopy techniques using Titan Krios cryo-electron microscopes.
Course structure
The course will be delivered as a mix of lectures, practicals where participants will work in pairs, and demonstrations. Concepts will be introduced in lectures, followed by relevant practicals or demonstrations to cement learning.
Learning outcomes
On completing this course you should:
Have an understanding about the breadth of methods available to produce and study proteins.
Be able to readily interpret results from these methods in publications.
Specific methods-based outcomes are below;
Protein production;

Understand what cloning strategies are available today, what the pros and cons of each are, and when each should be used.
What the purpose of protein tags is, and when to use different tags.
The benefits of different expression systems, and which system is best for different protein types.
How the most common chromatography techniques work, and when you would use each.

Mass spectrometry;

Understand what a mass spectrometer is, the kinds of information that can be analysed from a mass-spectra, and the basics of data interpretation.
Identify what mass spectrometry method may be most appropriate to answer specific research questions.

Electron microscopy;

Understand the range of different sample preparation methods that can be used to prepare biological samples for imaging in the electron microscope.
Be able to prepare macromolecular complexes for imaging in the electron microscope using negative stain sample preparation.
Understand the basic principles of how to take an electron micrograph.
What image processing steps are involved to turn electron microscopy images into 3D reconstructions.
Who would benefit from this week?
This course is pitched as an introduction to structural techniques for studying proteins and macromolecular complexes. We recommend this week for:
Recent graduates preparing to undertake Masters-level training with a significant research component or wishing to increase their competitiveness for a research degree (PhD).
Graduates with limited experience in structural molecular biology, who would like to develop additional skills in this area.
Undergraduate students approaching their final year of study, particular those preparing for research projects using structural biology, or about to finish their undergraduate degree.
Fees and funding
Programme fee: £750 per week payable to the University of Leeds prior to the course starting. This fee includes tuition costs, consumables for the practical sessions and lunch during the teaching day. It does not include costs for accommodation or any living expenses.
If you're unsure about the application process, contact fbsadmissions@leeds.ac.uk or +44 (0) 113 343 3021.
How to apply
Applications for 2020 are now open!
All applications for the Advanced Training Programmes must be made online. The application deadline for the Advanced Training Programmes is 4pm on May 6 2020.
We recommend that you apply as soon as possible as enrolment is limited and allocated on a first-come first-served basis. Applying early also means you are more likely to secure a place on your first choice of course as popular subjects are likely to fill up quickly.
Read about visas, immigration and other information in International students.